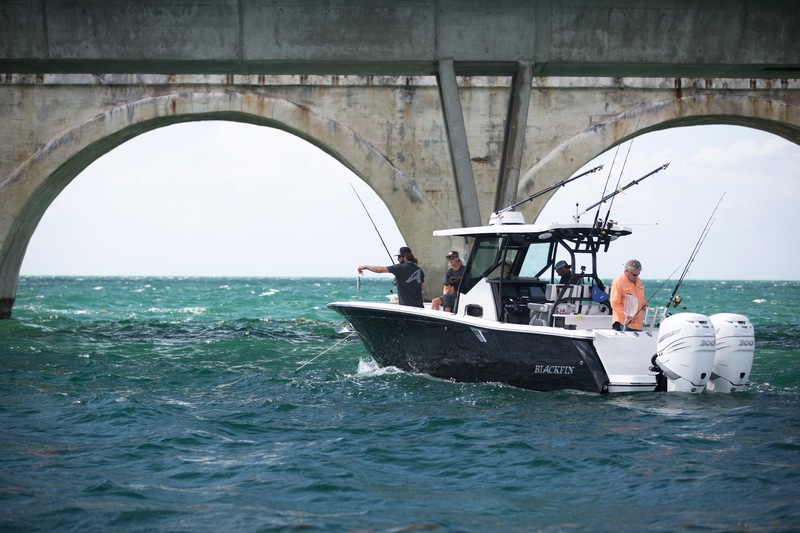 Whether you're passionate about landing the big one, or simply enjoy the views on the way to the offshore hot-spot, there's room for every breed of angler on a Blackfin Boat! In fact, in our book, the perfect fishing trip takes a combination of all kinds — from spirited sportfishing pros to fun-loving passengers who set the tone for the adventure ahead.
Just take this simple quiz to find out what your on-the-water personality is, and how you help make your family fishing day even better.
It's a beautiful Saturday for fishing. What time are you hitting the water?
A) By dawn, so I can carve out the perfect spot on the water and get a head-start
B) Just early enough to beat the heat, but not so early that we have to skip breakfast
C) Whenever everyone else wants to head out is good with me
D) Whenever I wake up after sleeping in
When you're not on your Blackfin, you're most likely…
A) Brushing up on my fishing skills via video tutorials, articles, and other resources
B) Keeping the boat looking its best and making sure we're all stocked for next time
C) Spending time with family
D) Hanging out with friends at dinner, a concert, or catching the big game
Where would you love to take your Blackfin next?
A) Somewhere super active, like Islamorada, Florida — the Sportfishing Capital of the World
B) Somewhere I know like the back of my hand, like tried-and-true Lake Tahoe
C) A central destination that's easy for my family and friends to get to, like the Great Lakes
D) Somewhere with lots of fun things to do, like Lake Havasu
Your camera roll looks like…
A) Proud shots holding my personal record-setting catches
B) Photos of my latest lake adventure so I remember where to go for next time
C) Candid shots of loved ones around the boat or beach
D) Photos of my latest vacation
What is your favorite genre of movie?
A) Action-adventure
B) Family classics
C) Feel-good, slice-of-life movies
D) Crowd-pleasing comedies
What boat name rings most true for you?
A) Reel Deal
B) Seas The Day
C) Fishin' Family
D) Island Time
Why do you fish?
A) To hone my skills and land the "big one"
B) Because it's tradition — and we need a delicious dinner anyway
C) Because my loved ones do
D) For all the fun that goes into a day on the water
If you answered mostly As…
You are an avid angler! Your love of fishing comes from within, and you are motivated by a desire to outdo your past self and reel in a better catch than ever. Just like any great sport, you know that fishing takes time, practice, and patience, and are more than happy to put in the work to take your on-the-water skills to the next level.
If you answered mostly Bs…
You might be the anchor angler! Whether you're keeping the boat looking its best, making sure everyone gets up on time for a big day on the water, or simply reminding everyone to reapply their sunscreen, your attention to detail is what keeps your family's fishing trip afloat. You feel most relaxed when your to-do list is completely checked, which is when you can lean into the fun and cast a line yourself!
If you answered mostly Cs…
You could be a go-with-the-flow angler — and that's an important position to fill! Even if fishing isn't your biggest passion in life, your supportive, fun-loving attitude is infectious for everyone else on board. Whether you're learning a new maneuver or simply soaking in some rays as you cruise, your laidback vibes help make the on-the-water experience even better.
If you answered mostly Ds…
You are the fun-loving angler! Well of course, all fishing is fun by nature — but you take it to the next level with personalized cruising playlists, delicious snacks and refreshments, and party games to enjoy in between catches. You personify the ideal of a carefree cruising experience, and the ride just wouldn't be the same without you.
Whether you're an avid angler, anchor angler, go-with-the-flow angler, or fun-loving angler (or perhaps — as we all are — mix of them all), you help take your family's fishing experience to the next level! Celebrate that on your next splashing adventure.
---
Bookmark & Share
---
User Comments
Be the first to comment on this post below!