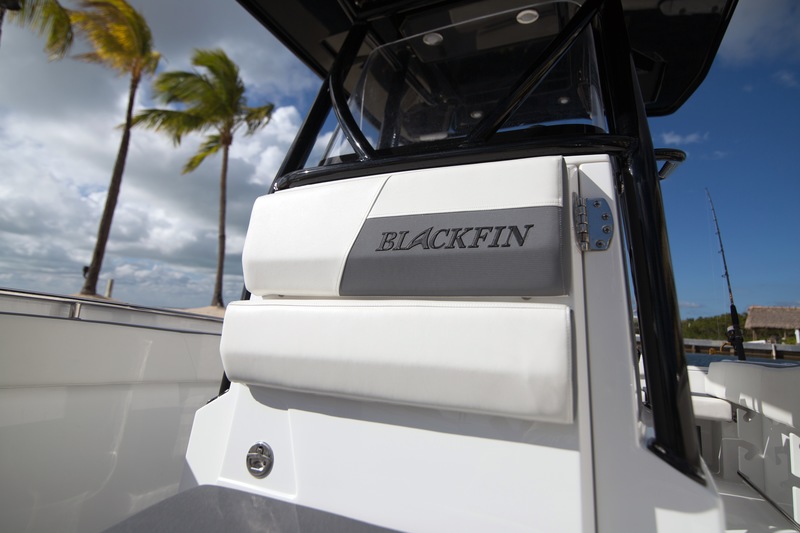 Follow these easy tips and keep your interior looking sharp for years to come.
Blackfin takes special care in choice of materials and assembly techniques to assure that the upholstery aboard retains its new look and feel for many years. But all upholstery can benefit from a bit of basic care. Here's how to keep yours looking its best:
Clean spills and stains immediately. Many stains get worse over time and can eventually become permanent.
Use a clean dry cotton cloth to rub away sun tan lotion, mosquito repellant, grease or fuel, then wipe the area with fresh water.
For more stubborn stains like ballpoint pen markings or lipstick, try isopropyl alcohol on a soft cloth, rubbing only the exact area of the stain. Use stronger cleaners only as a last resort--they can remove the protective coating that keeps your upholstery flexible and new-looking.
Clean in a circular motion so the stain does not spread. Brush stubborn areas with a soft toothbrush.
Rinse off salt spray with fresh water at the end of every trip. Salt attracts moisture, encouraging mold and mildew, as well as making for gritty, uncomfortable seating.
Wipe down the upholstery with a clean, dry towel after washdown. Dry surfaces stay cleaner and don't give mildew a start.
Cover the boat when not in use to prevent UV damage. A tight-fitting waterproof cover that can be secured in place against wind, with supports to prevent rain pooling, is best. The cover should include vents in appropriate areas to prevent mildew.
For long term storage, remove the upholstery from the boat and store in a temperature- controlled environment.
Use a vinyl plasticizer/restorer regularly to keep seating flexible and colors bright.
Avoid stowing wet towels, PFD's, wet suits, ropes and other gear in closed areas under seating. Rinse down and dry all gear prior to stowage.
---
Bookmark & Share
---
User Comments
Be the first to comment on this post below!