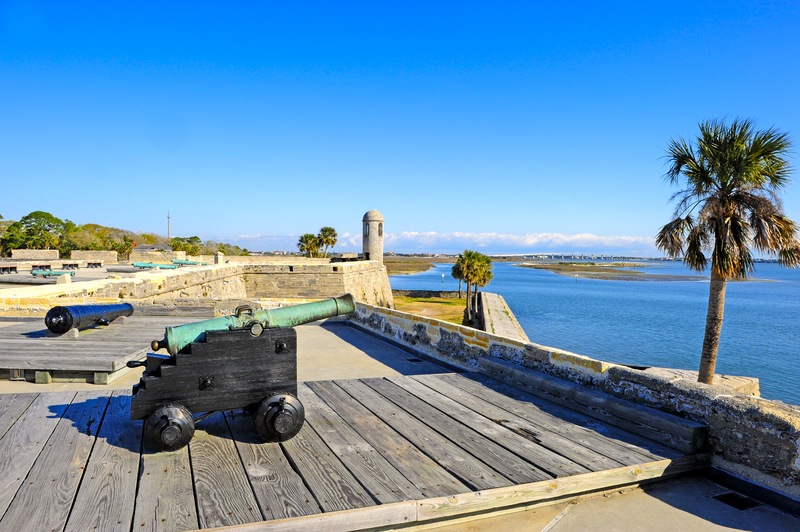 We traditionally associate the first Thanksgiving with a harvest feast and plenty of turkey - but way down the coast from Plymouth, and some 50-plus years earlier, a different "first" Thanksgiving features seafood and the mild Sunshine State breeze. Just read on to discover this unique moment in history, and how to relive it on your very own Blackfin, this Thanksgiving and beyond.
A splashing menu
St. Augustine is America's oldest, continuously settled city, first established in 1565 by Spain's Pedro Menéndez de Avilés and 800 of his fellow settlers. Upon arriving in this sunny, breezy "New World," the settlers shared mass and a meal with the native Seloy people. They likely dined on dishes such as salted pork and garbanzo beans from the Spanish settlers' on-board stores, as well as turkey, tortoise, drum, mullet, sea catfish and other catches from the coast.
That first feast was probably pretty crowded - these days, you can spread out and enjoy a quieter meal with family aboard your Blackfin! Use the beautiful St. Augustine coastline as the backdrop to your delicious dinner.
Cruising through history
A cruise along St. Augustine's shores is equal parts thrilling and educational, giving you and your family the chance to "ooh" and "ah" at local wildlife and stunning beach views, while learning about local landmarks like the Castillo de San Marcos, the site of that very first feast! St. Augustine was also an important port for pirates traveling to and from the Caribbean, so it provides plenty of historical intrigue for those interested in those swashbuckling days of yore.
What's biting?
While the "first Thanksgiving" in 1565 took place during September, there is still plenty of on-the-water action to discover closer to the holidays! Anglers will want to keep an eye (and a line) out for catches like snapper, redfish and thrilling cobia. For your own seafood feast, you can either go grillin' at a local beach (or, depending on your model, your very own Blackfin), or call ahead at a local seafood joint to see if they'll cook your catch for you! Many such spots can be found throughout the Sunshine State.
The big takeaway here? If your Thanksgiving style is more "surf" than "turf," well, you're in some good company! We hope that you and your family enjoy a delicious, happy Thanksgiving and holiday cheer all season long.
---
Bookmark & Share
---
User Comments
Be the first to comment on this post below!