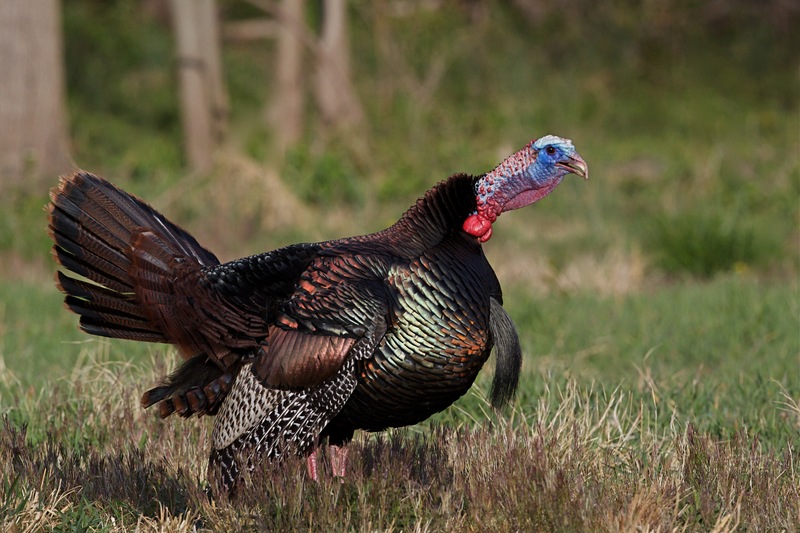 These last few days of fall fishing can be a challenge for boaters. Even if you're lucky enough to live somewhere with mild, fishing-friendly weather, you still might have lots of questions like: What's biting? What's the deal with fall turnover? How should I change my approach in the shifting temps?
These are valid questions, of course, and 10 anglers will likely provide 10 different answers on any given topic. But in honor of fall and the approaching holidays, why not look to a surprising source of angling inspiration?
We're talking about the wild turkey!
When it's not serving as the heart of a hearty Thanksgiving spread, the turkey tends to hang out in a lot of the same aquatic locales as you do on your Blackfin Boat — and it feeds on some of the same food you're fishing for, so it's learned a thing or two over the years. Just read on for a few fishing tips inspired by the feathered, holiday icon.
Be An Opportunistic Feeder
Turkeys are closely associated with a holiday that's all about food — so perhaps it's fitting that they love to snack, too! Well, technically, they're considered opportunistic foragers. This means they enjoy a bit of everything, so long as they can get their hands (er, beak) on it: grass, berries, worms, snails, fish, crayfish, you name it.
To take a page from the turkey's proverbial book, why not focus on becoming an opportunistic angler? It may seem obvious, but let's face it: It's all too easy to get caught up in what you want to catch (a trophy wahoo or slippery tarpon) and miss out on other fish in the vicinity due to your laser focus.
The photo-worthy catches will come, but in the meantime, have fun being on the lookout for fish of all shapes and sizes. This doesn't just add some variety to your on-the-water routine, but will also train you to be more responsive on board — helping you make decisions on the fly about tackle, bait, and casting technique you'll be grateful for later on.
Aquatic Vegetation Is Always Worth A Stop
The wild turkey doesn't necessarily love the water's edge — its aquatic cousin, anhinga, thrives there instead! But even a traditional land-lubbing turkey will check out aquatic vegetation in search of a bite, and that leads us to Lesson No. 2: Don't skip the greens!
Areas of shelter like mangroves, logs, and grass often play host to hungry fish — especially during the fall months, when they're voraciously preparing for cooler weather and don't want to be caught out in the wide-open, empty channels. Just be sure to pack tackle that's geared for low-visibility environments, like a muddy flat.
Early Bird Gets The Worm... But So Does The Night Owl (Er, Turkey)
Turkeys tend to feed in the morning and evening, preferring to set aside their midday hours for a nap (in turkey world, that's adorably known as "loafing"). During the chilly fall months, that second session between late afternoon and early evening will prove especially fruitful in many lakes — since fish will prefer to be active in water that's had sufficient time to warm under the sun.
Bring A Friend
Finally, turkeys are social animals — and anglers should be, too! Bringing a friend out to fish won't just boost your chances of reeling in a catch (a second set of eyes never hurts when searching for hungry fish!), but it will also make your outing that much more fun.
When you think "Thanksgiving turkey," your mind probably jumps to a delicious holiday feast. But the turkeys of the wild prove that they have much to teach us from a technique perspective, too! We hope these tips come in handy on your fall fishing adventures — or, at the very least, help you see your surroundings (and feathered friends) in an all-new way.
---
Bookmark & Share
---
User Comments
Be the first to comment on this post below!