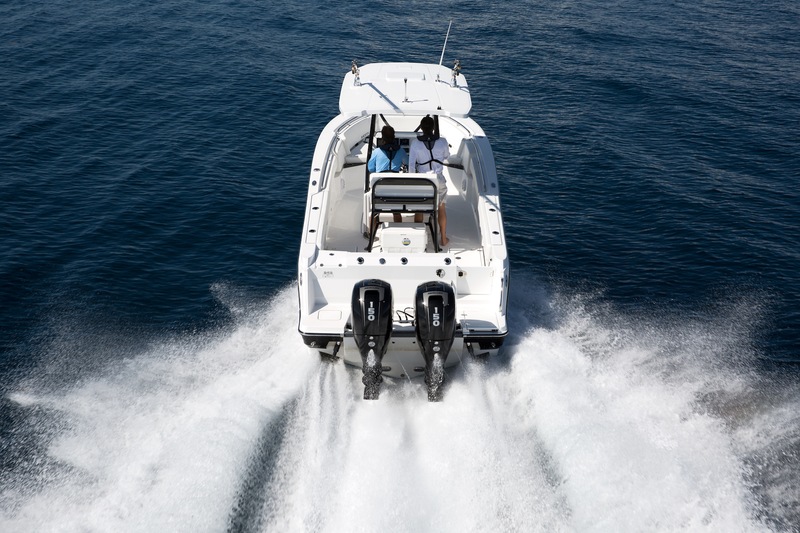 Are you finally ready to invest in a fishing boat? Boat shopping doesn't have to be a hassle and if you have the right information in hand, it will become more of a joy. Narrowing down your options are the best way to go: process of elimination. We always say, an informed buyer is a good buyer. For that reason we have put together a simple center console boat guide with advantages and benefits you could take advantage of.
More Visibility
Center console boats are popular among many anglers and an all around popular choice for offshore fishing and boating, either lake or ocean. One of the biggest reasons that people choose center console boats is the phenomenal visibility that it offers while boating. Since the helm is located at the very center of the boat, you can literally see all around it, nothing blocks your way. The whole point of boating for many people is to have a beautiful view of the area and if that sounds like you, then you will greatly appreciate the visibility Blackfin's center console boats have to offer while you catch some fishing action or bask in the sun.
More Storage
Inside a Blackfin center console boat, you can expect the maximum space and storage. We understand how necessary it is to have storage especially if you're out fishing and need to store your fish and bait appropriately. A popular model, the Blackfin 272CC has plenty of space, large freeboard and a flip down transom seating perfect for more storage.
360 Degrees Of Fishing Possibilities
One of the best things about a center console boat is the fact that you will be able to fish from all around the boat. You will have 360 degrees of fishing possibilities which allows you to cast in all directions. This is perfect for fishing buddies because there will be more space for everyone to cast with enough space so they don't hook each other's lines or block each other's casts.
More Balance
An often overlooked advantage of Blackfin center console boats are their balance. The fact that it's a center console allows the boat to evenly balance especially with multiple passengers. The best fishing boats make no compromises, which is why you need to take a look at what Blackfin Boats has to offer. Our boats are comfortable, yet powerful. Utilitarian, yet stylish. Safe in rough seas, yet able to reach high speeds. Feel free to visit our website and learn more about the Blackfin Advantage.
When Shopping For A Center Console Don't Forget About The Blackfin Family!
Now that you know some advantages and benefits we hope that it was helpful enough to help you decide whether or not you want a center console boat. If you're ready to get shopping, don't forget about the Blackfin family! We have exquisite center console models with your name on them. Build your own Blackfin boat on our website, choose your custom specs and join the Blackfin family!
---
Bookmark & Share
---
User Comments
Be the first to comment on this post below!