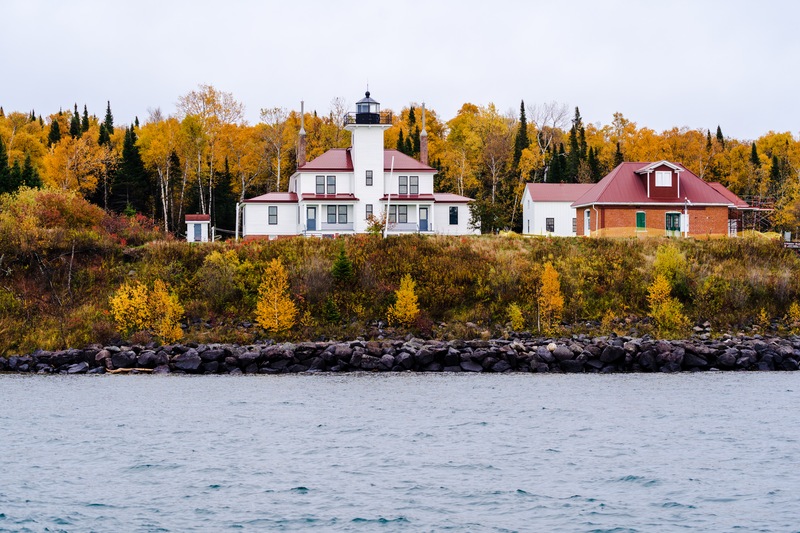 At the heart of your picture-perfect Thanksgiving table may be a cornucopia — a horn-shaped vessel overflowing with harvest foods, flowers, and other goodies representing a delicious bounty to be shared with family and friends.
The cornucopia is a comforting symbol of the season — so it's not too surprising that an entire town is named after one!
Cornucopia, Wisconsin earned its moniker thanks to its wealth of natural offerings. Interestingly, the town itself — which cradles Siskiwit Bay on the expansive Lake Superior — actually looks like a cornucopia from a bird's eye map perspective! But alas, when you're fishing and exploring from the comfort of your Blackfin Boat (our favorite way to travel), you're more focused on the adventure in front of you.
On that note, here's a virtual tour of this charming lakefront community — plus a few tips for enjoying your next trip there!
Island Hopping With Great Lakes Flair
Cornucopia is also known as the "western gateway" to the Apostle Islands National Lakeshore: a charming cluster of islands carved out of ancient sandstone that make for a seriously stunning backdrop to your boating adventure.
On some, there's room enough for cozy cottages or an inn where you can rest after a splashing day of exploring — while others are mere, tiny sea stacks whose topsy-turvy structures seem to defy gravity itself.
Certainly one of the most fun activities you can enjoy on the water is simply cruising past the colorful cliffs the Apostle Islands are known for! The aquatic crags tell the Earth's history through layer by layer of vibrant rock — and as you cruise by, you'll feel as though you stumbled upon a fabled waterscape from a favorite storybook. Or perhaps another planet entirely?
Then there's the allure of Lake Superior itself! Widely beloved for its pristine blue water and size — it's the largest freshwater lake in the world by surface area — the aptly named lake is a dream destination for boaters and anglers who want to do and see a bit of it all.
From A Frosty Quest...
In Cornucopia, "doing it all" might mean sticking it out through the coldest time of year to enjoy some ice fishing, or exploring the Apostle Islands ice caves! If your adventurous spirit doesn't mind chilly weather, this can be a great way to see the water of Lake Superior in a completely new way. Just check with local officials to learn more about safely navigating the one-of-a-kind frosty formations this winter.
... To Summertime Splendor
Of course, if you're a Blackfin Boater who prefers deck shoes to snow shoes, you may prefer to wait it out until spring and summer reinvigorate Cornucopia and the Apostle Islands. And you can be sure of one thing: It will be worth the wait!
According to the National Park Service, spring through early summer boasts trout and salmon close to shore. (Of course, on a lake as big as Lake Superior, "close to shore" still means there's plenty of room to spread out and claim a spot on the water!)
Later on in the summer, you can troll for species like walleye. It's the closest thing to ocean fishing you'll find in the Great Lakes — and, well, maybe anywhere in America. And it's a worthy addition to any sportfishing itinerary!
So, yes, it may be a while before you can experience Cornucopia and Lake Superior to the fullest — but by the time warmer weather rolls around, we can guarantee you'll be thankful for the fishing fun this charming lake enclave has in store. Until then, here's to a very happy holiday season!
---
Bookmark & Share
---
User Comments
Be the first to comment on this post below!