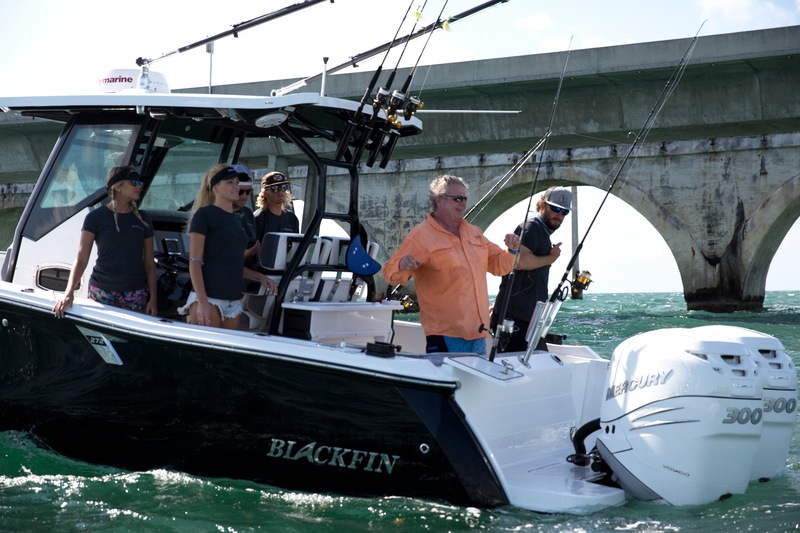 As a kid, there was nothing more fun than bringing in a huge haul of Halloween candy, then digging in to assess your treasures: from classic chocolates to tangy hard candies and everything in between. (On that note, which is your favorite?)
This Halloween, why not fill your tackle box with goodies like you used to fill your pillowcase or Jack-o-Lantern candy bag? Not only is this a fun, thematic way to get into the spooky spirit, but it can also give you an advantage on the water! Here are some of our favorite monster-inspired lures to bring on your next Blackfin Boat adventure.
Zombies
For many anglers, it's tricky to strike a balance between fresh, live bait and dead bait or artificial lures — with cost, fishing technique, and sustainability all playing a factor in your decision. But did you know that there's a zombie bait, or "Zombait," that helps you achieve the best of both worlds? This innovative, battery-powered product is placed into the mouth of your dead bait, effectively reanimating it to drum up a feeding frenzy beneath the surface. You can then reuse it for continued fishing fun!
Mummies
The wax worm is a popular bait of choice for trout and other fish — and the aptly named Mummy Worm is just a preserved version to keep handy in your tackle box!
Witches
If your favorite Halloween character is the iconic witch with a hat and broomstick (and maybe a mysterious cauldron), you can't go wrong with a Sea Witch lure. This product is popular in the offshore environment, and boasts a colorful broom-like texture that moves in the water — surely catching the attention of hungry fish beneath the surface. Like with other artificial lures, you can maximize the power of its spell by pairing it with any natural bait pieces you might have on hand.
Frankenstein
This one is a DIY! If you're familiar with Mary Shelley's Frankenstein, you know that the infamous monster was cobbled together with various, mismatched parts — and to this day, "Frankenstein" is sometimes used colloquially to refer to things that are similarly handmade, if imperfect. Why not use this Halloween as an opportunity to get creative and make our own lure? You can use virtually any odds and ends from around the house, but your pantry and miscellaneous kitchen drawer (we all have one) will probably be your best pet. Leftover bits of food like bread, corn, or chicken scraps, for example, can be shaped together for a lure that will get fish biting.
Pumpkin Spice
OK, not every item on our list is scary — some are purely sweet. There are pumpkin spice-colored (and sometimes even scented) lures out there, perfect for adding seasonal flair to your tackle box. Or, pick up an artificial lure that looks like a pumpkinseed sunfish!
You don't need to be a kid to enjoy the familiar fun of trick-or-treating — just a tackle box and a spirit for adventure! Here's to a very happy Halloween, from our family to yours.
---
Bookmark & Share
---
User Comments
Be the first to comment on this post below!