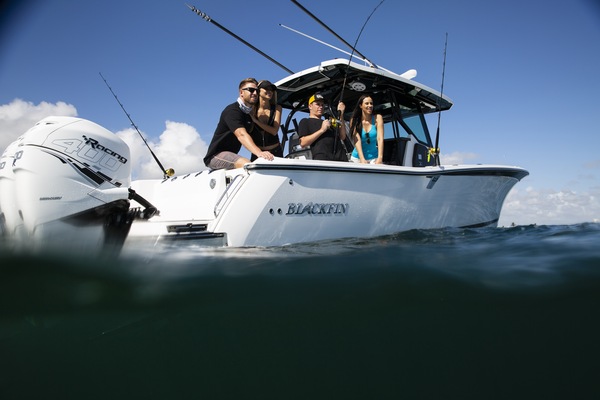 When you're casting your line from one of Blackfin's premier offshore fishing boats, you already have a major advantage — but wearing the right gear makes a difference, too! You might have a trusty pair of shoes you've designating as your fishing footwear, but are they the best tools for the job?
Spring is in full bloom, so now's the time to perfect your on-the-water uniform! Here's a quick look at some of the best footwear options for every kind of angling.
For Offshore Sportfishing
Blackfin Boats are built to weather the wildest offshore environments — so you can cast with confidence from your boat's deck wherever you roam. But you'll also want to wear shoes that provide the resistance you need when it's all on the line (literally and metaphorically). Whether you're wrestling with a monster marlin or serious sailfish, opt for boat shoes thar prioritize traction. For many anglers, the best pick will be shoes that are as stylish as regular deck shoes, but have specially designed siping (the rubber lines on your shoe's outsole) that holds up in slick on-the-water environments.
For Fishing The Flats
When you're a bit closer to shore, the fishing fun can feel more relaxed — so it follows that your footwear does, too! When you're exploring the shallows, opt for versatile water shoes that you can comfortably wear on board — but that you can also wear in the water, too, should you need to engage in a tug of war with a huge tarpon or bonefish! In general, water shoes are a must for anyone who spends time on their feet in the H2O, as they'll help protect you from underwater rocks and even other fish.
For Fly Fishing
Fly fishing is a classic pastime on streams, creeks, and rivers — and for good reason! The quiet, contemplative type of angling is perfect for those days when you want to retreat into nature and enjoy some serious solitude. While fly fishing prides itself in being a pretty down-to-Earth form of fishing, of course, you'll still want to put some consideration into your wardrobe — especially when it comes to your footwear! For this, invest in a good pair of wading boots.
If you haven't used wading boots before, you might think they're designed to keep water out. However, that's not quite the case — and it would be a pretty tall order, given how fly fishing can take you knee-deep in a moment's notice! Instead, wading boots work with the H2O, letting it filter through the shoe's exterior while wading socks protect your feet inside. And finally, the best wading boots will have traction on the bottom — which is just as important on the rocks of your local creek as it is on your Blackfin, miles offshore.
For Surf Fishing
You might think surf fishing footwear is a no-brainer. After all, this type of fishing takes place in the sand — so wouldn't you just go barefoot, like you would at the beach?
Yes and no! It's definitely comfortable to kick off your shoes, cast your line, and reel in a catch from the waves. However, surf fishing can be quite the workout — and when you add shells and rocks to the mix (depending on the composition of your local beach), you'll want to protect your feet from the elements. Your water shoes from flat fishing, or even a good pair of diving shoes, will help safeguard your feet and keep out the sand so you can spend hours on the shore.
We hope that today's guide helps you put your best foot forward on the water! Slip into your new shoes and enjoy the fishing fun ahead.
---
Bookmark & Share
---
User Comments
Be the first to comment on this post below!