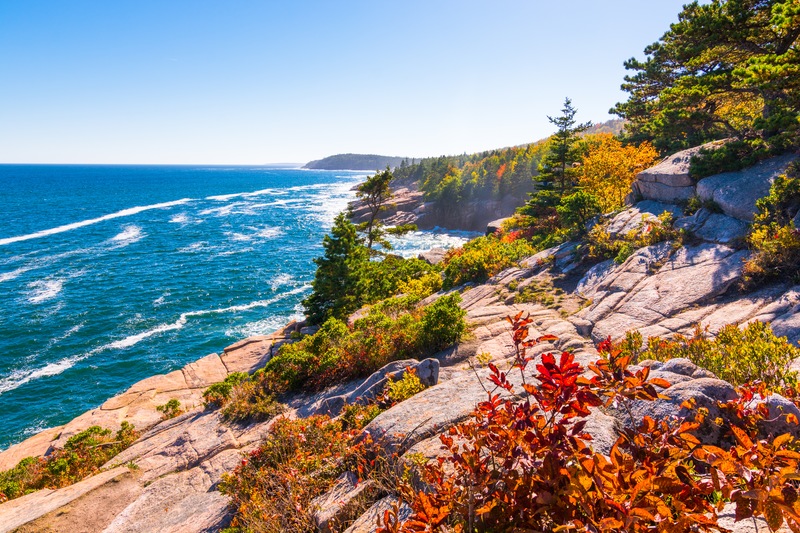 Fall in New England is something special, and nowhere do beautiful foliage and fishing fun meet quite like Maine's Acadia National Park. At this time of year, the splashing fun of summer has wound down and the cozy thrill of ice fishing is still a month or so away — making this delightful "in-between" stage the perfect time to discover fall fishing and leaf-peeping!
Just read on to learn more about experiencing this vibrant escape from the comfort of your Blackfin Boat.
A Different Kind Of Island Hopping
When you think "island hopping," your mind probably doesn't jump to autumnal paradise, right? In Maine, though, the gorgeous Cranberry Isles add fun flair to your angling adventure — whether you're cruising for beautiful fall views (more on that later) or simply trying your hand at some inshore fishing. Other stunning bodies of water in this area include Eagle Lake, Great Long Pond, Bar Harbor, and many more.
For Leaf-Peeping Success…
If you're thinking about exploring Acadia during the fall, leaf-peeping is bound to be pretty high on your list! And for good reason — the park's stunning pine, fir, and spruce of all sorts come alive with vibrant red, orange, and yellow as fall settles in and crisp fresh air surrounds you. According to the interactive fall foliage map on SmokyMountains.com, mid-October is the peak time to see fall colors at their most brilliant, though the view is sure to be pretty exquisite in the weeks before and after, too.
In addition to exploring by water (you can even bring along a canoe or kayak to get an up-close view of the meandering shore), there are plenty of different hiking opportunities that will give you a unique view of Acadia's colorful coastal landscape. Choose one that suits your skill and comfort level, and enjoy the trek ahead! Pair your day of exploring with a picnic back on level ground — pumpkin spice hot coffee or your favorite hot cocoa are sure to please as the park dips into cooler weather.
What's biting?
Now, back to the water! Once you've taken some time to soak in the fall foliage in all its warm-toned brilliance, it's time to identify the fish you'll likely spot in and around Acadia National Park. On the freshwater side of things, this includes landlocked salmon, brook trout, and smallmouth bass, to name just a few. Saltwater finds include mackerel, bluefish, winter flounder, and more, depending on when you head out. Just be sure to check with local guidelines before planning your fall fishing day to know what you can fish for (and where), since each part of Acadia National Park and the surrounding area may have unique regulations.
And who knows? Maybe fall fishing in Acadia will inspire you so much that you decide to stick around for the park's thriving ice fishing scene a little later on this winter. Any way you slice it, this is a true outdoor lover's paradise.
Whether you're in the area planning a fun fall weekend, or are simply dreaming about a future trip, we hope that today's guide has given you a small slice of Acadia! Whenever you go, there's no better way to do it than with your very own Blackfin Boat.
---
Bookmark & Share
---
User Comments
Be the first to comment on this post below!