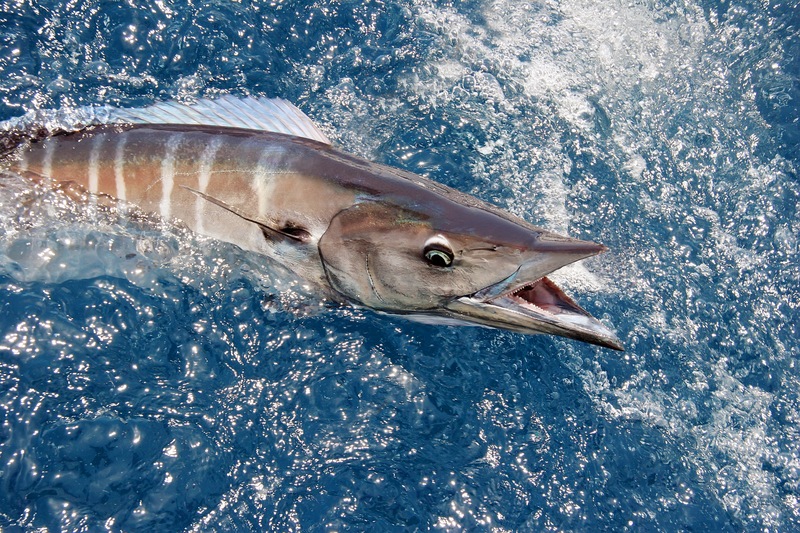 For some boaters, the arrival of fall might signal a slowing down on the water — but many avid anglers know that this is actually the best time of year for select catches, so long as you know where to cruise and cast your line! If you're wondering what's biting during the cool, colorful weeks of early fall, we've got you covered. Just throw on your layers and read on.
Largemouth Bass
If freshwater fishing is your go-to, fall is a great time to try for largemouth bass! The king of your favorite lake can grow as big as 22 pounds, per Field & Stream, making it a worthy addition to your angling itinerary. During the cooler fall months, largemouth bass can be found in shallow water as they try to stay warm. Plus, at this time of year, they are voracious eaters and want to fuel up before the winter — so they're busy biting! Bassmaster named New York's St. Lawrence River and California's Clear Lake as two top spots to cast your line for largemouth bass this year, but you really can't go wrong wherever you freshwater fish.
Walleye
Another great spot for fall fishing and leaf-peeping? Lake Erie! When it comes to catching walleye, this is the greatest Great Lake to do it. Plus, its characteristic cliffs come alive with fall foliage at this time of year, providing the perfect backdrop to fishing, kayaking, or simply cruising along and enjoying the view.
Chum Salmon
There's nothing quite like fall in the Pacific Northwest, where stunning displays of fall foliage complement moody, overcast skies — creating the perfect atmosphere for fishing fun! Chum salmon is one of the top catches at this time of year. One of the largest and most abundant Pacific salmon, chum can be found in the Puget Sound, Tillamook Bay, and other PNW hot-spots.
Yellowfin Tuna
Of course, fall fishing doesn't always mean changing leaves and chilly weather! If you prefer a warmer option this season, you can't go wrong with a trip to sunny South Florida. Fall is actually a peak time to catch yellowfin tuna, from the Keys to Biscayne Bay. What the coastal digs lack in vibrant foliage, they more than make up for in balmy temps and swaying palm trees that help you embrace a year-round vacation mindset. Whatever you do, just bring plenty of heavy-duty line — this tuna can weigh in at several hundred pounds and reach more than five feet across!
If you're looking for a record-breaking catch, though, you might want to hop over to the West Coast — to somewhere like San Diego, where the largest yellowfin tuna ever was caught! That California catch came in at a whopping 445 pounds.
Wahoo
Say aloha to another tropical favorite! The wahoo — aka ono in Hawaii, meaning "delicious" or "good to eat" — hits its peak in the early days of fall, meaning now is a great time to cast your line. Hawaii is an especially popular place to fish for this slender, quick-swimming fish and its flashy stripes (especially if you want a truly one-of-a-kind fall fishing experience), but wahoo can also be found in tropical waters around the globe.
We hope that today's guide helps bring your Blackfin adventure to the next level! Be sure to share your catches with us online, this fall and all year long.
---
Bookmark & Share
---
User Comments
Be the first to comment on this post below!