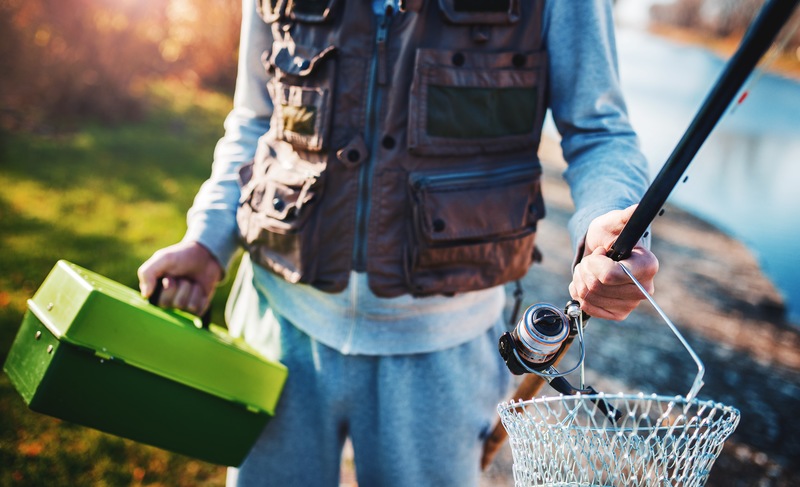 As a seasoned angler, you probably have a pretty well-organized tackle box for all of your fishing adventures — but what about a snackle box? The pun-ny term refers to organizing delicious, colorful treats in a tackle box, making for a fun (yet practical!) culinary companion to any Blackfin outing. And even if you're not bringing your boat out for the day, well, sometimes it's just fun to serve food in a whimsical way.
The term has recently taken off on TikTok — but as far as we can tell, it's been floating around since at least the mid-aughts, according to Google Trends. Want to learn more about how to assemble this playful grazing option? Just read on, and dig in!
Start With A Fresh Caddy
This one might seem like a no-brainer — and it probably is! But just in case, make sure you use a fresh-from-the-store tackle box for this project. Even the cleanest caddy has likely seen its share of dirt, bait, and fish parts, making it less-than-appetizing to eat out of.
If you look up "snackle box" on social media, you'll see plenty of pictures of the kind of tackle box that works best for this project! It's typically a basic, shallow box with plenty of small compartments and a see-through opening — so you and your fellow anglers can start digging in with your eyes before ever taking a bite.
Pick A Protein
Like a delicious bento box or charcuterie board, every great snack assembly starts with protein! Opt for picks that will hold up well in the on-board environment, even without constant refrigeration — think mixed nuts, seeds, dried meats, and other fuel you love! If you can cool things down, cheese cubes are another wholesome option. The right protein-packed snack will help fuel you for plenty of fishing fun to come, especially on those days when you're forced to put up a fight with a whopper of a fish.
Add Some Sweets
Balance is key, especially when it comes to crafting a delicious snackle box! Put the "snack" in snackle with candy, gummy bears, chocolate-covered fruits, crisp, refreshing carrots, grapes, and anything else you can think of (but don't pack anything perishable — or melt-able — without access to an icy cooler, of course!). Finally, bring your flavors game full-circle with salty snacks like pretzels, chips, and other trail mix staples.
Take A Snap & Share Your Creation
The rise of the snackle box can largely be attributed to social media — so why not take your turn with the fun food trend? Take a photo of your snackle box on your Blackfin Boat, or against the backdrop of a beach towel and your favorite shore spot. Share with friends and inspire them to pack their own snackle box next time!
Clear Out Your Treats Between Trips
Speaking of next time, you'll want to give your snackle box a thorough clean before bringing it back on board for your next adventure! A mild dish soap solution works great for keeping your snackle box fresh between outings — and it's versatile to help with, well, just about everything else, too.
If you use any of these tips to craft a beautiful, mouthwatering snackle box, we'd love to see your masterpiece in action! Happy fishing (and fueling) from your Blackfin family.
---
Bookmark & Share
---
User Comments
Be the first to comment on this post below!