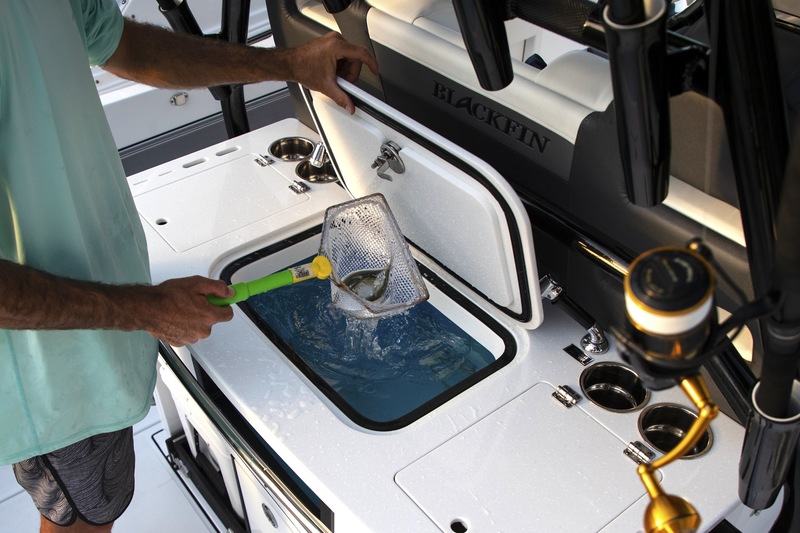 From all of us here at the Blackfin Boats team, we would like to thank you for helping us earn the honor of NMMA's Marine Industry Customer Satisfaction Index (CSI) Award for Excellence in Customer Satisfaction. The award is based on consumers who bought a new Blackfin Boat over the last year — and if that includes you, well, you're probably still savoring that new-boat feeling (which, in our opinion, is even better than the new-car smell!).
But even so, you may be looking for ways to make your boat feel extra fresh for spring. In addition to de-winterizing your ride, if you live in a cold climate, here are a few simple but impactful steps you can take to make your Blackfin feel clean, light, and luxurious for the boating season ahead.
Mix A DIY All-Purpose Cleaner
You don't need strong scents or un-pronounceable products to create a fresh on-board environment — in fact, you can put together a simple all-purpose cleaner with items you already have at home! There are so many recipes to try, but one light, gently zesty option comes from Good Housekeeping: one part vinegar, one part water, lemon rind, and rosemary sprigs! You can even keep a bottle on board to clean up messes as they happen on the water. Just remember to spot-test your new cleaner first, to make sure it interacts well with whatever surface you're cleaning.
Add Beautiful Flowers
When you're cruising or fishing, you're probably already surrounded by some pretty wonderful scents — from the salty sea breeze to the familiar smell of sunscreen (reef-safe, of course) that foretells a great day on the water. But a fresh bouquet of flowers can be just what you need for that extra fresh something, and you'll love how the flowers' aroma carries on the coastal wind.
Plus, if you leave your boat somewhere outdoors — like your local marina — you may be able to leave hardy, sun-loving on board even while you're back on land!
Freshen Up Your Fish Box
Blackfin built-ins like a spacious cooler or fish box help keep your catch cool for a delicious dinner back on shore — or store bait for the day's biters. But because these are the only parts of your boat tasked with housing fresh fish, you naturally want to take special care in keeping them clean. You are also probably want to prevent harsh chemicals getting in contact with the fish you may be eating later. So... what do you do?
Reach for that trusty all-purpose cleaner you made earlier! Your fish box might call for more TLC than other areas of your boat (i.e., you'll want to rinse and repeat a few times) but the main idea remains the same. You can even fill your fish box or cooler with a soap-and-water mixture and borrow from it as you clean the rest of your Blackfin's surfaces — giving the interior some extra time to soak in the clean solution.
When it comes time to scrub, a gentle scrub brush will be your best friend — but the most important step happens after you've soaked, scrubbed, and rinsed. Let your cooler or fish box air out by leaving the lid open under the fresh air, and repeat this practice as often as possible between fishing trips. This will prevent any unwanted damp smells from settling in and sneaking on your next cruise with you.
We hope that these tips help you enjoy spring and summer boating to the fullest! Warm, sunny, splashing days on the water will be here before you know it — and we can't wait to see where your Blackfin brings you next.
---
Bookmark & Share
---
User Comments
Be the first to comment on this post below!