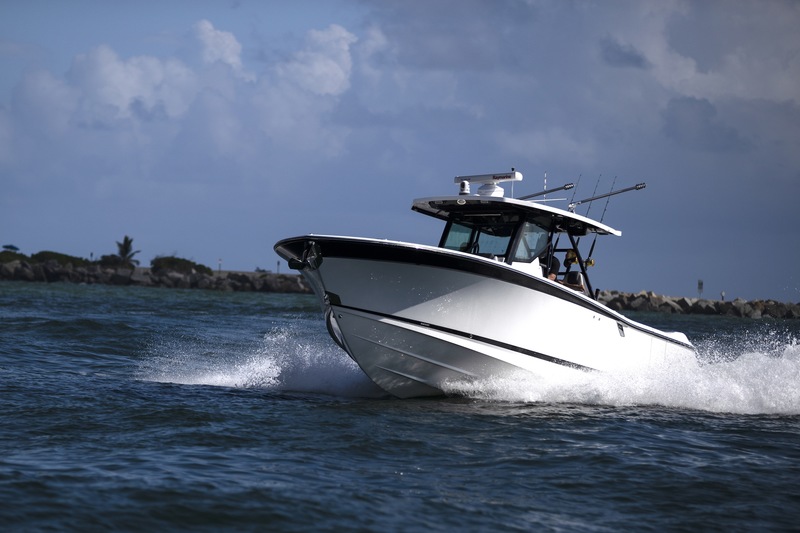 Are you thinking of becoming a boat owner? Cheers! Joining the community means joining a family who share a love for boating, and we can't wait for you to become a part of our Blackfin family! Since you have your mind set on the type of boat, dive into our top tips for buying a center console boat:
Determine Whether You'd Like A Brand New Or Used Center Console Boat
The first thing you have to determine when buying a boat is whether you want it to be brand new or used. This is a key piece of information that will guide you down the path to your dream boat! It really takes a little bit of shopping around online to discover that a used boat will be softer on your wallet than a brand new boat. However, with a cheap price tag, there are risks involved. There might not be apparent problems with the boat but it may have hidden issues such as engine problems, electrical systems, or even rot as stated by Mariners Insurance. While a new boat is heavier on the wallet, quality boat manufacturers like Blackfin offer warranty on every boat, so boat owners or future owners like yourself can sleep better.
Shop Around For What You Want
It's easy to walk into a brokerage and tell them what you're looking for "a center console boat" and get talked into buying the one you did not want. The best tip is to have what you want in mind, then go to a brokerage when you're ready to buy. You could visit boat shows or even take virtual tours without having to get out of your chair. Better yet, you could build your very own boat right on our website if you'd like some ideas.
Inspect The Boat
Finally, you've landed your dream boat! But before you buy it, do more than just looking at it. You should inspect the boat by doing a walk-through and if you can, go for a sea trial. This will help you determine the boat handles turns and how it drives. Even hiring a surveyor will do you wonders, especially if you're purchasing a boat larger than 30 feet. When you shop for boaters insurance, ask if they include a surveyor - sometimes that is an option! If it's included, take advantage of this benefit! Just like you would hire an inspector before buying a house, hire a surveyor for your boat.
Need Help Finding A Dealer Near You?
Finding a dealer near you is a piece of cake when you use our website to find one! Follow this link to be directed to a page where you will find a dealer near you. If you have any questions please don't hesitate to give our Blackfin team a call, we will be happy to assist you in one of the most joyous times of any boat owner!
---
Bookmark & Share
---
User Comments
Be the first to comment on this post below!