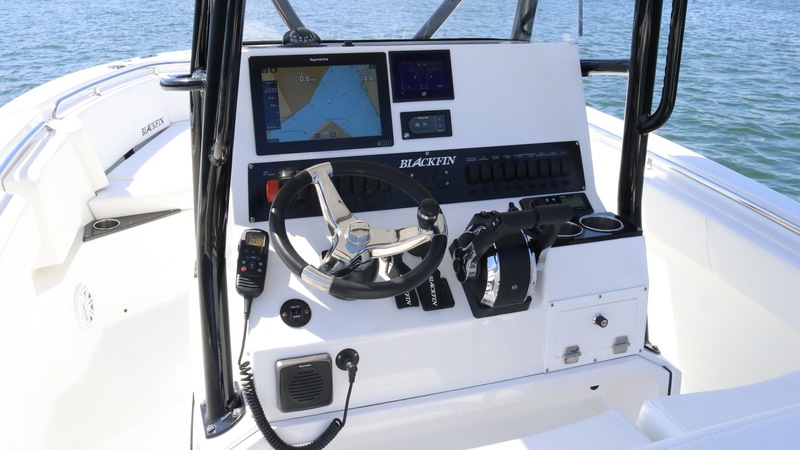 If you're thinking about buying a center console fishing boat from Blackfin Boats, you're making a great choice. We offer a variety of modern center console boats that are perfect for serious anglers and sport fishermen, and also fantastic for families and relaxed weekend trips, such as the new Blackfin 332CC.
But buying a boat is a big investment. So, what should you be thinking about before you buy a center console boat? Here are some of our top tips.
What You'll Use Your Boat For
If you're serious about fishing, a center console boat is definitely the way to go. Modern center console boats are incredibly spacious and have plenty of room on the deck for all of your gear, and offer 360-degree access to the water, which is perfect for reeling in a difficult catch.
Primarily, you need to think about how many people you plan on bringing along. As a rule, a Dual Console (DC) boat of the same size as a CC boat will be able to carry more passengers, so if you have a large family or a lot of friends, you may also want to look into some dual console boat models.
Your "Must-Have" Features And Amenities
This will help you narrow down your options when shopping for a center console boat. Consider things like:
Fuel capacity

Engine power

Entertainment options (stereos, lighting, etc)

Live wells

Convenience features, such as toilets, showers

Storage capacity

Total number of rod holders

Electronics packages
Think about what's really important to you, and make a list – ranked from most essential to the least essential. This will help you find the right vessel.
Your Budget
We get it, it's fun to "window shop," and look at boats that may be out of your price range. But it's never a good idea to set your heart on a boat that you simply can't afford.
Make sure to build a comprehensive budget for owning your boat, including the cost of financing, registration, maintenance, storage, owning a trailer, and other such fees and costs. Then, you'll be able to ensure you don't buy "too much boat," and find a vessel that's within your price range.
Choosing The Right Hull Design
For freshwater, shallow fishing and boating on lakes, you will want a boat with a more shallow hull, as it will be easier to maneuver. Those who are fishing off-shore or going deeper into the water will want a deeper hull, which will provide extra stability in large waves, and increase top speed. It's best to try to take a boat out for a demo ride, to get a better idea of how the boat handles in the conditions you'll encounter.
Consider These Factors – And Choose The Right Center Hull Fishing Boat!
A center console boat is a great investment for serious anglers, and due to the versatility of these vessels, they can also be used for just about any water-based recreational activity. Ready to start shopping? Check out the lineup of CC boats at Blackfin Boats now! Want to see one in-person? Visit us at a local boat show, or find a dealer near you, and get a sneak peek at our latest center console vessels.
---
Bookmark & Share
---
User Comments
Be the first to comment on this post below!