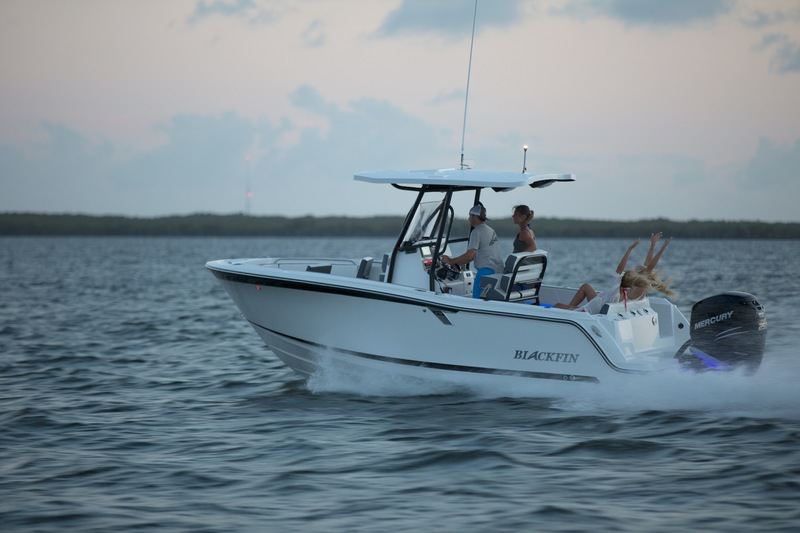 There is nothing that compares to the excitement of buying a new boat! As boat lovers ourselves, we know how overwhelming it can be choosing the right center console boat. This boat will probably be the place you will spend most time your time on and when you're not on your boat, you'll be thinking about taking your boat out. Choosing the best center console boat doesn't have to be overwhelming at all. Our Blackfin team have put together three steps to choosing a center console boat to help ease your search:
#1 Research The Manufacturer:
Before you go for that dream center console boat you've just laid your eyes on, check its manufacturer. Quality is significant and while the boat may look quality driven from the outside, you can't ensure its parts are of quality. To help you determine the level of quality behind the build, check if the manufacturer is NMMA-certified. This certification states that the boat has been tested against critical build and safety standards. You should also find out about the manufacturer's Customer Service Index (CSI) which is a program designed to ensure customer service satisfaction. Of course learning about the manufacturer in other ways such as reading reviews and forums will also give you more indication on its quality behind the build.
#2 Determine How And Where You Will Use Your Boat:
Determining how and where you'll be boating will help you choose the boat that best fits your lifestyle. It will also help narrow down the manufacturer options you have to choose from. Will you be using your boat for watersports? Are you mainly taking it out to fish alone? Will you be bringing family and friends to fish as well? If so, are you going to a lake or the ocean? These are all ideal questions to ask yourself when choosing a center console boat.
#3 Take It For a Sea Trial:
All you need to do to take a sea trial is contact your dealer and plan a sea trial before making your final decision. You should set aside your boating excitement and try to pay attention to detail. These details could let you know if something is potentially wrong and save you a ton of money on repairs. You shouldn't take a sea trial just to make sure it rides with perfection but you should also love take it to make sure its the one.
When Shopping, Don't Forget About Blackfin Boats
When you're shopping for the right center console boat, don't forget about Blackfin Boats! There is a reason why people say we live up to our legend through our models… Our aim at Blackfin Boats is to build on a legendary brand heritage while incorporating the latest in design, engineering, and materials that has made our quality, durability, and safety unmatched. Learn more about the Blackfin difference right here.
---
Bookmark & Share
---
User Comments
Be the first to comment on this post below!