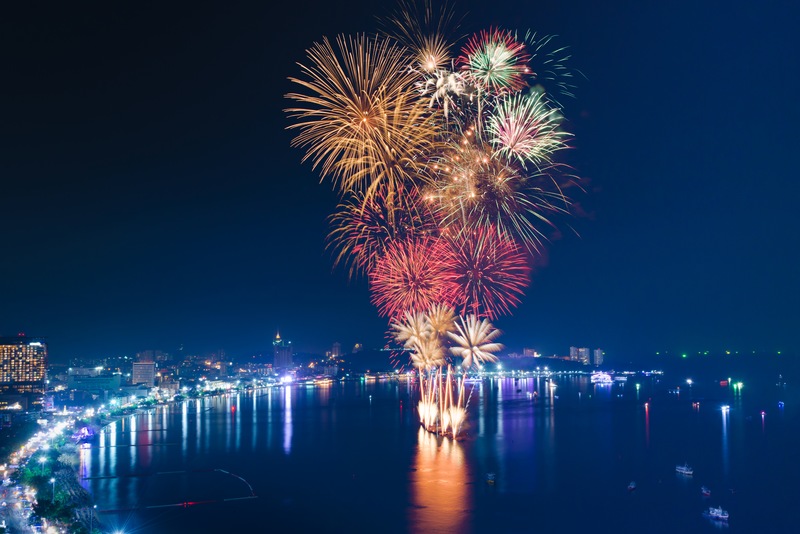 The Fourth of July is almost upon us! For those of us who like to celebrate on the water, the summer holiday will likely be spent with a splashing-good barbecue and plenty of vibrant fireworks. You might think that our fish friends beneath the surface aren't in on the festivities — but as it turns out, there are, indeed, fireworks underwater! Well, sort of.
The firework jellyfish — aka, Halitrephes maasi — is a rare deep-sea dweller with a truly unique look. Just read on to learn more about this one-of-a-kind creature, just in time for the Fourth of July!
An Underwater Light Show
So, just what is the firework jellyfish? In 2017, the Exploration Vessel Nautilus captured our best glimpse at the creature yet: a large jelly whose tentacles form a firework-esque starburst shape. However, as E/V Nautilus points out, the jellyfish's beautiful colors — in electrifying, near-neon pink, purple, and gold — wouldn't be quite as flashy (or even noticeable to the naked eye) without the research vessel's lights. In other words, the "fireworks" display is a beautiful moment of convergence between nature and the people who study it!
Fishing In Firework Jellyfish Territory
According to the National Oceanic and Atmospheric Administration, the firework jellyfish has largely been found in the Pacific, Indian, and South Atlantic oceans. The 2017 jelly, specifically, was spotted about three quarters of a mile beneath the surface, in the depths of the Revillagigedo Archipelago off Baja California in Mexico.
Because it's way deeper than you'd ever cast your line (and nearly impossible to spot, without light) the firework jellyfish probably won't appear on your angling adventure in the area. Not that you'd necessarily want it to — jellyfish, no matter how beautiful they are, still pack a powerful sting! But all in all, the firework jelly's home is still a pretty beautiful place to fish. Just north of Baja California you'll find San Diego and, just a bit further, Catalina Island. Both spots are popular cruising and fishing destinations, well-known for catches like white seabass, striped marlin, and tuna — yellowfin, bluefin, and more! And of course, once you're back on land, you can head to SoCal's many beautiful aquariums to see different kinds of jellyfish in a safe environment.
For Even More Illuminating Fun...
Even though you likely won't be running into a firework jellyfish in the wild anytime soon, you can still explore vibrant marine life from your Blackfin Boat! For example, bioluminescent beaches around the world give you a chance to see tiny sea creatures illuminate their surroundings with an ethereal glow. Domestically, you can find this phenomenon everywhere from San Diego to Florida's Gulf Coast! Sure, it's not quite as dramatic as an underwater firework — but it's still a dazzling light show you won't soon forget.
According to NOAA, more than 80% of the ocean has yet to be explored by researchers — so for every bizarre firework jellyfish or other glowing creature you learn about, there are countless more that we haven't even met yet! Of course, in our book, that just makes cruising and fishing that much more fun.
---
Bookmark & Share
---
User Comments
Be the first to comment on this post below!