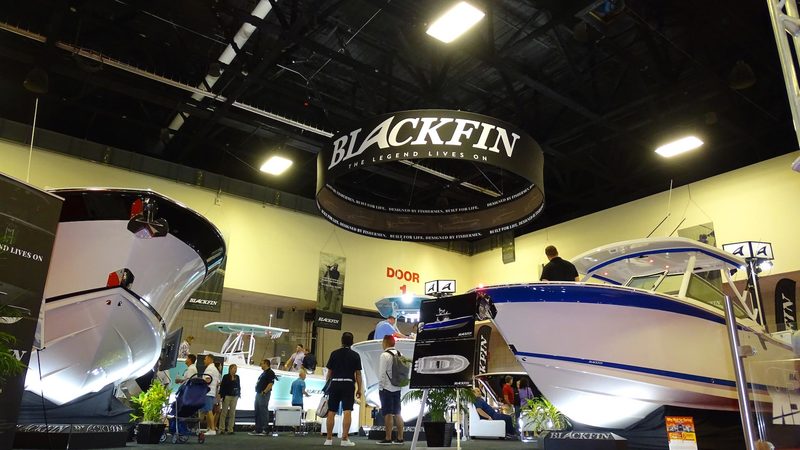 Center console boats are very popular and honestly with it's 360 degrees of fishing possibilities, balance, storage, and visibility, it's no wonder why they're popular. Fishermen don't play around, when they're ready to fish they've got to have the perfect boat ready and if this sounds like you and you're ready to see what Blackfin Boats has in store for you then hang on to your hats! Meet our center console fishing boats:
Blackfin 212CC
Looking for an entry level Blackfin with standards and amenities that dominate on the water? Then the 212CC is the boat for you. With its sharp entry, variable dead rise, and large freeboard, you will be able to enjoy by yourself or with the whole gang! This ride has an all-in-one cockpit table, sun pad, and casting platform. Removable backrests and helm seating for ultimate comfort. Learn more about this gorgeous model right here.
Blackfin 272CC
The Blackfin 272CC is a beauty in everyone's eyes and there's no doubt about that. Except this model has more than its beauty to offer. This powerhouse ship has engine options up to 600 HP. You can climb aboard and do some serious fishing on this model. With its dual engines up to 300 P each, you are bound to get all the power and mobility you need while out in the water. When you're driving your 272CC, the first thing you'll notice is how quiet the ride is. This is exactly the relaxing model you've been wishing for. Aboard the 272CC, you'll be able to truly bask in the beauty of the ocean without focusing on noises coming from your boat. Build your very own 272CC today.
Blackfin 242CC
One of the most popular and well-regarded boats on the market is the Blackfin 242CC. We wanted to make sure this model wasn't just the perfect cruising boat but one that every angler dreams about. This model's functionality is out of this world because as you know that's the most important factor in a fishing boat. Inside this model you can expect a large livewell that can also be used for live bait, conveniently located and gasketed so that when you catch that big fish, you'll have fresh water to put it in. This model offers up to 400 HP with the option for single or twin engines. The 242CC is a model to remember, learn more about this model by reading another one of our blogs.
Blackfin 332CC
The latest model, 332CC is everything you'd expect a Blackfin boat to be. This model is what legends are made of. This model rides super smooth and is loaded with features and amenities that are to die for. You'll be equipped with pretty much everything you need to have some fun in the sun. Livewell, rod holders, spacious seating and lounge area is just the amenities you need for every boat ride. Read more about our newest model right here.
Choose From The Blackfin Lineup
Do you like what you see? You can be a proud owner of a center console Blackfin boat today! You could even have the freedom to design your very own Blackfin to fit your exact want and expectations. If not exceed them. When you buy a Blackfin boat, you're not just buying another boat, you're joining a family. To find a dealer near you click here. We can't wait to have you be a part of the Blackfin family!
---
Bookmark & Share
---
User Comments
Be the first to comment on this post below!