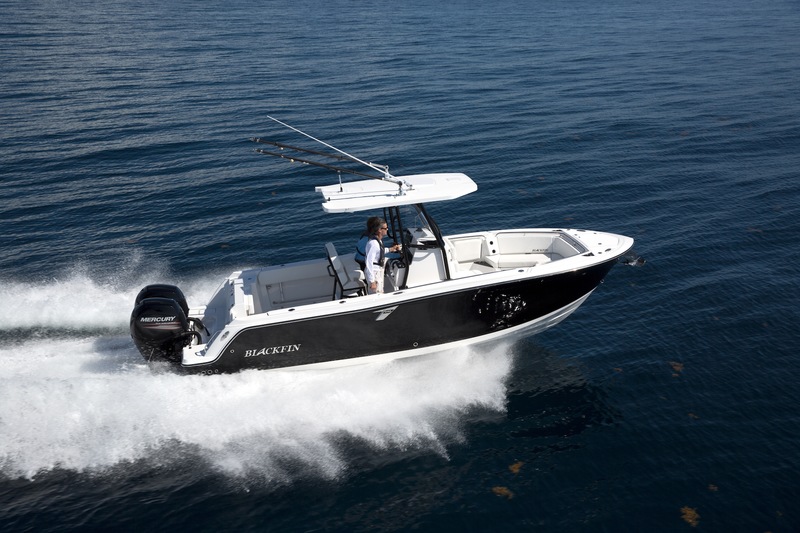 For many years and for countless customers, Blackfin Boats has been synonymous with quality. In an industry that often disappoints, Blackfin bucks that trend and over delivers. Experienced boat buyers often report that the power, handle, and comfort of our boats far exceed their price range. For boat buyers, choosing Blackfin is a clear choice. What gets harder is deciding which model to buy!
One of the most popular and well-regarded boats on the market is the Blackfin 242CC. Below, we'll explain why this boat has such an excellent reputation and what you should expect when you purchase one.
Functionality
Comfort and amenities are nice, but the real value of a fishing boat is in its functionality. When we built the 242CC, we had anglers in mind. We wanted to make sure this model wasn't just a boat to cruise around in. Instead, we sought to make it a anglers dream boat.
That commitment starts inside the ship. The livewell is large, conveniently located, and gasketed. When you make that dream catch, you'll want to keep your fish fresh and healthy as long as possible. Our livewell does just that. We also chose to include a large transom platform and a sturdy ladder to get in and out of the boat. Lastly, we make the fishing experience as easy as possible by including rod holders throughout the ship so you can relax between bites.
Beauty
One thing that customers consistently say about the 242CC is that is has a certain shine that other boats do not. This is because we color our boats with a high-gloss gelcoat that is striking to look at and is built to last. When you buy a Blackfin 242CC, you're sure to have the best looking boat on the water.
Power
One of the best parts about choosing Blackfin Boats is customization. You can decide how much power you want your boat to have depending on your needs and budget. For this model, we offer up to 400 HP with the option for single or twin engines. We also offer two different brands, Mercury and Yamaha, so you can fit your boat to your exact preferences. No matter which engine you choose, your boat will have breathtaking speed and mobility.
Comfort
An underrated aspect of an effective fishing boat is its comfort. Some boats do the job well but are just too uncomfortable to spend a whole day in. With this in mind, we made the 242CC as cozy as possible. Included are high-quality seats, a spacious interior, extensive seating areas, and a design that cuts down on rocking and sloshing. We also added a cooler that lies conveniently under the driver seat so you can have fresh food and cold drinks without taking up any extra space.
Boat experts, reviewers, and customers all agree that the Blackfin 242CC is one of the best on the market. It is every anglers dream, combining functionality, looks, power, and comfort. If you love fishing but haven't pulled the trigger on getting your own boat, now is the time. Trust us: You won't regret it.
To get more information or request a quote, visit our 242CC products page or contact one of our dealers.
---
Bookmark & Share
---
User Comments
Be the first to comment on this post below!