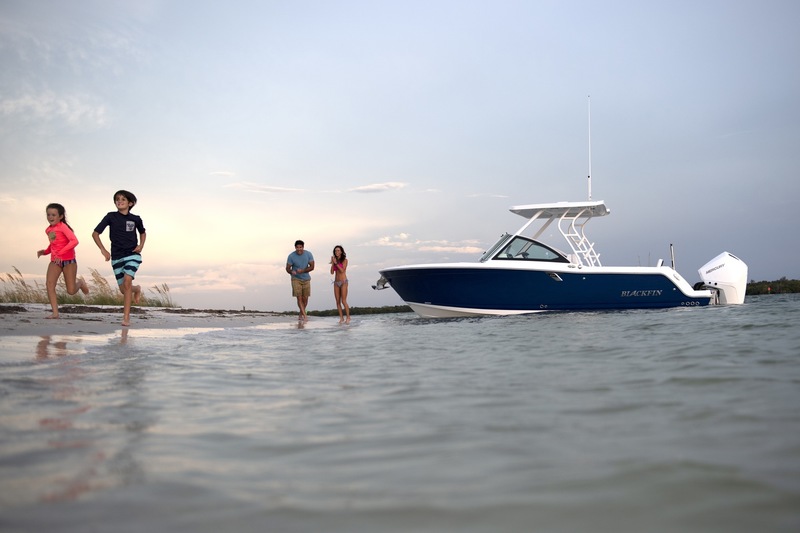 There's nothing like the pure thrill of bringing home a brand-new Blackfin, whether it happens to be your very first boat or an upgrade from your last ride! Make no mistake: This is a big step that deserve serious celebration.
Of course, these days, we can't always gather with the ones we love. But just like we have done for birthdays and baby showers (think creative drive-up celebrations and virtual parties), there are plenty of ways to celebrate this splashing milestone in a safe, comfortable way for all! Just read on for some of our favorite ideas to mark this exciting moment in your life.
Why do we christen our boats?
Christening a boat before its maiden voyage is a time-honored tradition, dating all the way back to the Babylonians, Vikings, and Greeks! The latter of these, known as a serious seafaring people, would even dress up in olive branch wreaths and toast to Poseidon, the sea god, for safe travels. And the tradition continued well into the modern era, of course, with everyone from family boat owners to the U.S. Navy taking time to specially celebrate and "bless" a brand-new vessel.
Think of a fun name
Many boaters are sure to agree: Naming your new ride is one of the most fun parts of bringing a new boat home! This is perhaps the first time your boat starts to really feel like yours. It is a sort of addition to your family, after all, so you will want to put some thought into this – but at the same time, you should not feel the need to take it too seriously. We love classic, carefree names like "Island Time" or "Seas the Day" that speak to the easygoing nature of life on the water.
If you can't be with family right now, they can at least help suggest names to feel connected in the process! For those who love some healthy competition, you can make it an online contest with everyone voting to see which name is the most popular pick. (Just be careful, of course, because you never know which name will prove most popular among your audience of family and friends! In 2016, when the British Natural Environment Research Council asked the internet to help name its new research ship, the most popular polled submission was called "Boaty McBoatface." Ultimately, the whimsical name was assigned to one of the ship's submersibles instead.)
You might even choose a name based on current events, if that's more up your alley, such as "Coastal Distancing." This can be a meaningful reminder of the time you chose to hit the water as an escape from the uncertain situation back on land!
Enjoy a "coastally distant" celebration
Speaking of coastal distancing…
Perhaps unsurprisingly, the punny term might actually be the best way to celebrate your new ride in 2021! Even if you can't bring all of your friends and family on board to celebrate with a maiden voyage, you can invite them to cruise by the dock or stop by the sandbar to see your new ride and wish you well from a safe distance. You can even send out fun, nautical-themed goody bags to help everyone celebrate from home or their very own boats.
Cruise online for a virtual send-off
Another fun way to "gather" without really, well, gathering, is via virtual celebration. We've likely all participated in one or two of these over the last year, so you know the drill! Schedule a video chat where all of your family and friends (even those in other states and countries) can log on and see the new ride in action. You can also make an online group and share photos of your first outing or first catch made on your new ride!
Make festive decorations
Remember, this is a really big moment! Spend some time making festive decorations, such as a custom novelty life preserver or boat figurines topping off delicious cupcakes. This is an activity that younger "crew" in the family will especially enjoy helping out with.
Throw your own boat-warming with handy essentials
It's always exciting to shop for new housewares for a new home, whether it's your new space or a loved one's. The same idea holds true for your boat. Be sure to bring aboard essentials like new, fluffy towels, safety devices and stylish, functional gear. For that, of course, you can head to the Blackfin apparel shop on our site!
Christen your new ride
Now, of course, comes the really fun part: Christening your ride! This will look a little different for everyone. You can take the classic route and pre-launch your boat before breaking a bottle of bubbly – if you're wary of breaking glass on your brand-new Blackfin, which we completely understand, skip that step and simply toast with some sparkling cider to safe, merry travels! (Did you know that you can even purchase a "breakaway" bottle that is built to break in half upon contact, for boaters who want to avoid a potentially messy or unsafe break?)
However, that's just one way to christen a boat. In our book, another great route to take is celebrating your new boat with a proud catch out on the water – whether it's a trophy mahi or modest mackerel, the actual catch doesn't matter here. It's more a symbolic way to remember your very first outing on your Blackfin!
We hope that these ideas help you celebrate your new boat to the fullest! And from the Blackfin family to yours at home, we wish you the warmest congratulations on your new ride – one that's sure to bring you endless memories to come.
---
Bookmark & Share
---
User Comments
Be the first to comment on this post below!