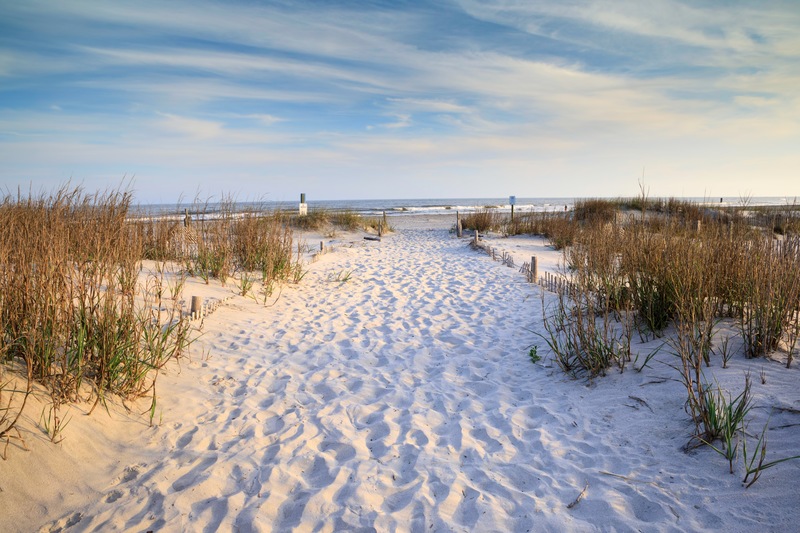 Southern hospitality. Fresher-than-fresh seafood. Endlessly charming cruising and fishing destinations to choose from. There are countless things to love about the South Carolina Lowcountry – and today, we are embarking upon a virtual tour of this unique slice of the American South!
This area of cruising terrain is especially appealing during the cooler months – because down on the Southeast coast, winters are generally mild and almost always fishable. Just hop aboard your Blackfin and join us as we cruise past some of South Carolina's most iconic vistas worth visiting, including some oddball surprises along the way.
Land a trophy catch
Have you ever heard that fish are bigger in the South? Though it is perhaps not a scientific guarantee, we're inclined to believe that the rule of thumb holds true – maybe, some posit, because the warmer weather gives the fish more time to grow and eat. Either way, some of your favorite species are sure to be biting all year long, even in the middle of winter.
Close to the beaches and marshy shores that line the Lowcountry's meandering coast, you will find inshore species like trout, redfish and flounder. The flats and backwaters, in particular, give fly fishers plenty of room to cast their line and enjoy unspoiled natural views.
The fishing fun does not stop there, of course. Venture out into the big, blue Atlantic and you'll discover a host of big catches like sea bass, grouper, snapper, cobia, barracuda, and tuna, which are all able to be found at this time of year. Your Blackfin is built to handle the Lowcountry's many varied environments with ease and effortless precision. (Of course, it doesn't hurt that it looks great, too!)
But it wouldn't be a true trip to the Lowcountry without catching (and eating) some crustaceans. Did you know that you can catch crabs and shrimp, using a casting net, in the scenic tidal creeks that wind through the region? It's a unique experience for anglers that you can't do just anywhere – the perfect activity for adventure travelers who like to jump right in the water and try a hands-on approach.
And of course, you can even pick up a new fishing technique like surf fishing from South Carolina's charming stretches of shoreline – but more on that later!
Enjoy classic Lowcountry fare
Like we said, "Lowcountry" is practically synonymous with fresh seafood – particularly the classic Lowcountry Boil, a classic local tradition that describes the food (shrimp, crab, sausage, corn, potatoes…) as much as it does the kind of laidback, backyard gathering where you might normally eat it with friends.
Sure, we may not all be gathering together these days, but a Lowcountry boil is just as worthy of enjoying on your Blackfin or via dockside dining! It's a flavorful, satisfying seafood dish that's sure to please the whole family. Hushpuppies are another Southern staple we love pairing with fresh seafood. (Tip: Bring along some extra for cruising fuel after your meal!) Wherever you go, you will discover Southern goodness and Cajun flair for a truly memorable feast.
Go island hopping
Over on the Lowcountry mainland, beautiful beaches run up to marshlands teeming with wildlife, from those aforementioned crustaceans to gorgeous shorebirds and more. But did you know that there is just as much to discover on the water? Your Blackfin is the perfect vessel to go island hopping, Lowcountry style!
The Lowcountry sea islands are abundant, each infused with one-of-a-kind character. Some, you can dock at and explore the land – like Johns Island, home to colonial architecture and an enormous live oak tree dating back 400-500 years. You can also discover Bohicket Creek here, an ideal place for hopping aboard your kayak and getting close to the water for your next catch.
Other islands are also perfect for Blackfin boaters who want to cruise past for a scenic view between fishing hole stops. Morgan Island on St. Helena Sound, for example, is a lush, jungle-like escape providing beautiful views from the water. But be sure to look pretty close at the verdant shores – you might just spot one of the 4,000-some free-range monkeys that call the otherwise uninhabited island "home!" The monkeys were brought here in 1979 for research purposes in a natural environment, and have stuck around as a unique fixture of the local wildlife scene since.
And of course, many of the islands also make for a great beach day. Stake your place in the sand and relax, or hop in the water that laps the shore as you try your hand at surf fishing, a beloved South Carolina pastime. Through surf fishing, you might be able to land catches like redfish, flounder, pompano and so much more depending on the day, tide, and time of year. (Tip: If you haven't gone surf fishing before, you'll likely want to pack a long rod and sand spikes for the task at hand! Casting weights are another piece of your tackle box for surf fishing – they are designed to stay in place, helping you avoid your bait being swept up in the waves toward your fellow angler's line. With these guidelines, you will be well on your way to a successful surf fishing adventure.)
Pop culture buffs might also like to know who their celeb neighbors are. So many famous folks have owned homes in the Lowcountry at one point or another, like Michael Jordan on Hilton Head or John Mellencamp over on Daufuskie Island! We can't blame them, of course – there is nothing quite like the natural allure or sense of back-to-nature realness that can be felt throughout the Lowcountry region.
Now, we want to know – what is your favorite part of the Lowcountry lifestyle? Whether you're an avid angler in the area already, or are dreaming up a sun-soaked Southern vacay, we hope our virtual tour helps you enjoy your next outing to the fullest.
---
Bookmark & Share
---
User Comments
Be the first to comment on this post below!