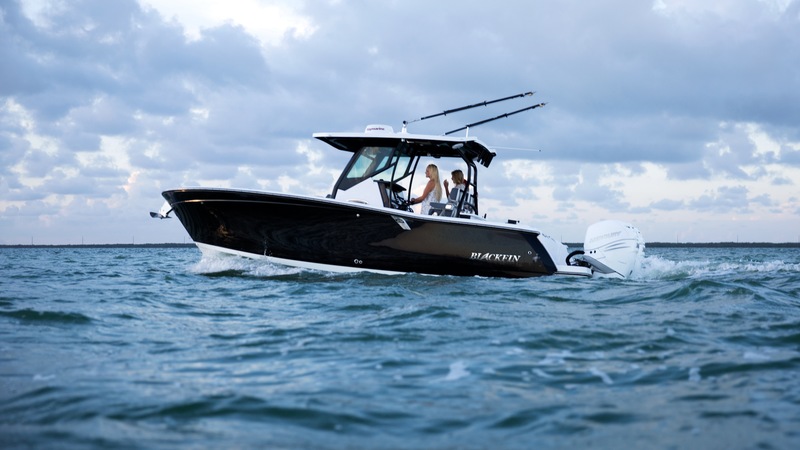 When an angler is shopping for a new boat, there are a lot of things on his or her mind. Some are budget conscious and after a low price tag, while others are looking for the absolute best boat no matter what the cost. If you fall into the latter, then the Blackfin 272CC is for you! This boat is one of the top vessels on the market for premium sport fishing boats. It is packed with amenities, has unmatched power, allows for customization, and looks fantastic out on the water.
Let's dive right into the BEST reasons to buy the Blackfin 272CC.
#1 Its amenities are to die for
When you drive your 272CC, the first thing you'll notice is how quiet it is. You might even think you're dreaming is how quiet your drive is! This is due to how well built the vessel is. All of the hatches are gasketed, the parts are sealed together smoothly, and the rest of the ship is engineered to perfection. When it comes time to drop your line, you'll be pleased to see that there are many conveniently placed rod holders so you and your group can relax and take a break whenever you need it. On top of that, when you catch that first fish, you'll be able to keep it fresh with our spacious live well and fishing boxes.
Aside from the fishing itself, the Blackfin 272CC is as comfortable as any fishing boat on the market. It has high-quality seats, multiple seating areas, a spacious interior, and a cooler for your food and drinks. Sometimes sport fishing boats focus too much on functionality and not enough on comfort. The result is a bumpy, uncomfortable ride. When we built the 272CC, we were able to keep all the functionality without sacrificing luxury. You can expect to feel like royalty in one of these bad boys!
#2 Beauty is power and the Blackfin 272CC is BOTH!
This powerhouse ship has engine options up to 600 HP. We use dual engines up to 300 HP each to give you the power and mobility you need. Serious anglers often crave a boat that can pick up some serious speed. With the 272CC, that's precisely what you get. Aside from its strong power, Blackfin 272CC is a beauty in anyone's eyes. The first thing you'll notice about Blackfin Boats is their eye-catching shine. This is because we use a bright, expensive, and versatile gelcoat. No matter which color you choose for your 272CC, it is guaranteed to sparkle. Also with this model, you don't have to settle for what's at the dealership. Instead, you can customize your engines, coloring, amenities, and more.
#3 Trustworthy manufacturer
As a brand, Blackfin Boats has gained an excellent reputation for high-quality boats, great value, and satisfied customers. We are one of the premier names in the sport fishing market and serve happy customers daily. As a brand with such prestige, you can trust us when we say that this boat is an absolute powerhouse. Keep in mind that when you purchase a boat, you are purchasing a brand and you should make sure it's one worth representing.
Ready to purchase the boat of your dreams?
Whether this is your first boat or an upgrade on your current one, the Blackfin 272CC is the right choice. When you decide it is time to buy a new boat, think of these top reasons to buy the 272CC. It has unmatched amenities, power, customization, and looks. All of this combines to ensure you'll be completely satisfied with your purchase. Imagine yourself out on the water in a 272CC… Now go make it happen.
To view specific specifications or request a quote, visit the 272CC information page.
---
Bookmark & Share
---
User Comments
Be the first to comment on this post below!