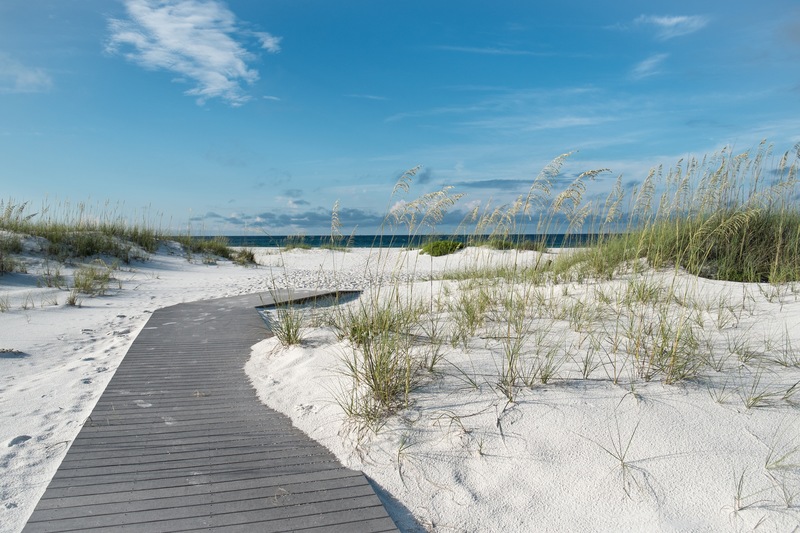 By this time of year, many of us are dreaming of the idyllic winter wonderland — cool, snowy, and serene. But what if your perfect holiday looks a little warmer? As it turns out, a gorgeous "White Christmas" can still be enjoyed from the comfort of Blackfin's fishing boats.
Our tip? Head somewhere with white, sugary beaches — or shallow water made a bright, brilliant blue thanks to the color of the sand below. Just read on to see a few of our favorite such destinations!
What A Hue Can Do
White sand plays an important role in the coastal environments we love so much — even underwater! One reason locales such as the Florida Keys or Bahamas have such dazzling, turquoise H2O is that the sediment beneath the surface is lighter in color. It's also often coarser, coral-based sediment that is less likely to float and cloud up the water.
For many anglers, clear, shallow water isn't just beautiful to look at — it also presents a fun challenge that tests your fishing skills! The fish in these environments are, naturally, better equipped to see the movement above and around them, so you have to employ some crafty techniques to land the catch. Our tip? Gear up with light-colored line and lifelike (or natural) bait to keep things as inconspicuous as possible. Also, align your Blackfin with the sun so that you're not casting major shadows on the white ocean floor, which can spook the fish!
Now that you're ready for the unique thrills of a "White Christmas" on the water, where will you go? We've got some ideas.
Destin, Florida
Florida's Emerald Coast is often compared to the rich blue waters of the Caribbean, and it's easy to see why! You can easily head offshore for some big-time fishing fun, but many locals enjoy trying for tarpon, snapper, and other inshore species. After a day on the water, enjoy a colorful sunset that paints the white, sandy shore in a swirl of pink and orange!
Orange Beach, Alabama
Just a quick drive (or cruise) west from Destin, you'll find another Gulf Coast gem: Alabama's Orange Beach. Contrary to its name, the shore here is some of the softest, most stunning white sand you'll ever see! Pompano, sheepshead, and Spanish mackerel are just a few of the fish you'll find on your Orange Beach adventure.
Marco Island, Florida
Cruising back down to the Sunshine State, you'll find Marco Island — the tiny barrier island gem that will make you feel as though you accidentally cruised to the Caribbean! Turquoise water surrounds the bright, sparkling shore, where you'll find sharks, tarpon, grouper, and more! You can also cling close to the local mangrove shores to find the many fish who use the natural plant formations for cover.
Sombrero Beach, Florida
Down in the Florida Keys, Sombrero Beach is another beautiful spot you'll want to check out. When you're not lounging around in the soft sand, you can hit the water with a kayak or stand-up paddleboard — or, for fishing fun, your own Blackfin! Try for tarpon or snook, or see the fish from underwater with a snorkeling break. This is also a great place to try surf fishing, if you want to sink your toes in the sand as you cast your line!
Carmel City Beach, California
The West Coast might not be quite as well-known for sugary, white-sand beaches — but Carmel City Beach, California is a delightful exception to that rule! Light, gorgeous sand overlooks the rich blue of the Pacific, where you can head offshore and try for species like barracuda, white sea bass, lingcod, halibut, and more! Just be mindful of local fishing regulations, as there are some protected areas in the vicinity where you can admire the view, but shouldn't cast your line.
Whether you're having a traditional white Christmas, or plan to try one of the balmy locales above, we hope you and your fishing family enjoy a happy holiday season!
---
Bookmark & Share
---
User Comments
Be the first to comment on this post below!