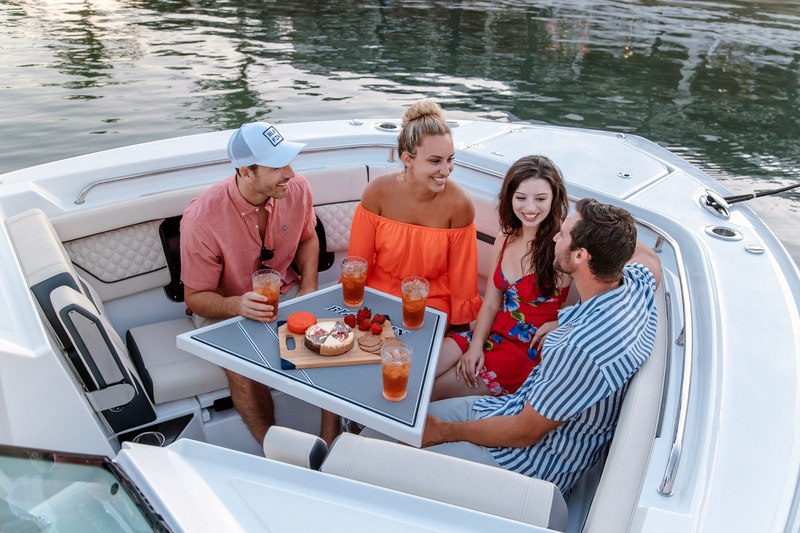 ls hosting family and friends on your list of 2023 New Year's resolutions? If entertaining is a priority for you in the year ahead, you're not limited to your home on land — you've got one on the water, too! Blackfin's fishing boats provide the perfect backdrop to family parties, dinners, and just-because gatherings — in addition to serving as serious fishing machines.
And if you're one to keep up with the latest design and entertainment trends, you can easily incorporate those in your on-board space, too. Just read on to see a few of our favorite ways to do just that.
"Right-Sizing"
We're all familiar with downsizing and upsizing when it comes to our homes. But Better Homes & Gardens says "right-sizing" will be a popular home trend in 2023 — and we think it applies to boats, too! This term aptly describes the process of moving or restructuring your space to better suit your needs, and that conversation makes sense when thinking about purchasing (or designing) a new boat.
We love the term right-sizing because it removes any emotional charge from finding a space (or boat) you love! There's nothing bad about going smaller, nor is there anything inherently better about going larger — it's all about consciously choosing what works best for you. For example, have you ever felt yourself wanting to entertain more passengers than could comfortably fit on your ride? If so, a larger model might be just what you need! Conversely, if you'd be more likely to hit the water with a smaller vessel that's more practical to keep up, then by all means, go for it!
The great thing about Blackfin Boats is that you'll find the same commitment to a quality, high-tech ride across all of our models — so right-sizing doesn't have to come with any sacrifices.
Art Deco Fun
According to The Spruce, art deco is on its way back. Much like the 1920s, the 2020s will also favor elements of this fun aesthetic — defined by geometric patterns and pops of color that reflect a refined, extravagant (but not stuffy) style. You can incorporate art deco with throw pillows and other accents on your Blackfin Boat! Plus, our selection of colors includes several picks that pair perfectly with art deco sensibilities, like Sea Foam Green and Carolina Blue.
A Stylish Wet Bar
Good Housekeeping predicts that "elevated wet bars" will take center stage in 2023 — and if you want this practical (and fun) feature to be part of your year, why not add it to your custom Blackfin Boat? One of the newer members of the Blackfin family, the 272DC, is one model that comes ready with a wet bar — plus an optional electric grill for even more galley fun!
Open To Fun
The open floorplan isn't going anywhere in 2023 — in fact, according to The Spruce, open-concept dining spaces are still very much en vogue. However, there's a catch: you still want to define your space in other ways, even without the use of walls.
So, how does this apply to your on-board dining space? Fortunately, the concept of an open yet defined entertaining nook is built into your Blackfin Boat! Passengers can gather at the bow, hang back by the transom, or help steer the fun from the cockpit — each area distinct from the last, yet part of a cohesive on-board entertaining space. Lighting and other custom features can help you further set your boat's dining and unwinding areas apart from the rest.
When It's Time To Recline...
Speaking of unwinding! House Beautiful says daybeds will be a popular living room trend in 2023 — and on your floating living room, aka your Blackfin Boat, you can similarly recline with our spacious bow seating! Filler cushions let you kick back, relax, and enjoy the ride, while you can also add your own personal touch with pillows and throw blankets for some cozy cruising between fishing sessions.
We hope that today's guide helps you optimize your Blackfin for family fun — in 2023 and beyond!
---
Bookmark & Share
---
User Comments
Be the first to comment on this post below!