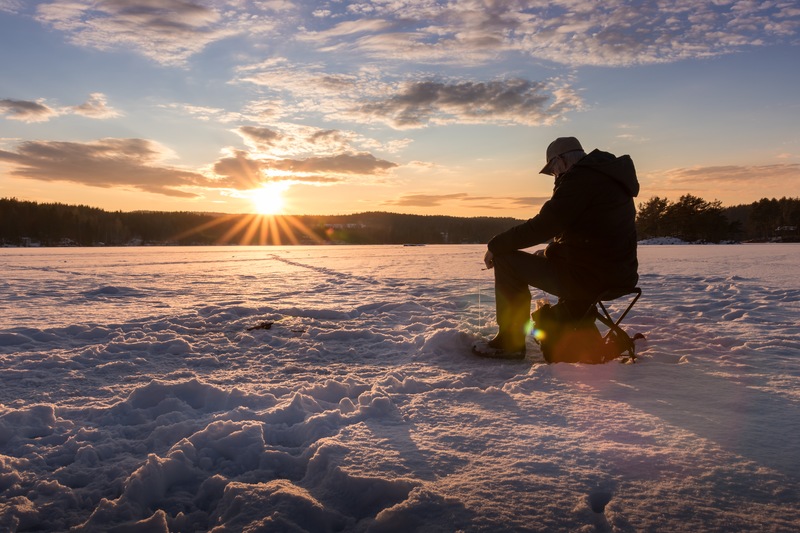 We hear a lot about the North Pole at this time of year — and while many children will naturally be wondering when (and how) Santa Claus will make his gift-giving flight around the globe, angler kiddos and their families might have a different question on their minds. When Santa's not delivering presents, does he make time for ice fishing?
The magical figure's snowy, storied home seems like the perfect place to take up the sport — and apparently, there's some precedent for Saint Nick's fish of choice. Just read on to discover the North Pole seafood scene, plus how to try your hand at this one-of-a-kind fishing method this winter.
What Would Santa Eat?
Though the lore behind Santa Claus doesn't necessarily mention ice fishing, local fish does tend to figure into theoretical menus for the jolly old man. For example, Finnish chef Tero Mäntykangas told Fine Dining Lovers that salmon, salted fish, and whitefish roe would all be included in a Christmas buffet for someone like Santa, who dwells near the Scandinavian country. (So apparently, it's not all milk and cookies!)
Meanwhile, in North Pole, Alaska, you can expect to find species like the Arctic grayling, lake trout, northern pike, whitefish, and more, according to USA Today.
Ice Fishing 101
Though the North Pole is definitely Santa's scene, it doesn't have to be yours — that is, if you want to enjoy an ice fishing adventure without making the trek to the Arctic Circle, well, there are plenty of places to do it.
Many of the best ice fishing lakes happen to be pretty great summer spots, too. Take, for example, North Dakota's Devils Lake — where you'll find walleye, pike, and perch — or New Hampshire's Lake Winnipesaukee, where lake trout reign supreme and an annual ice fishing derby gives locals and travelers alike a chance to indulge in some healthy competition and carnival-style fun.
By this time of year, both destinations have transformed from splashing, warm-weather environments beloved by boaters and anglers alike, to winter wonderlands perfect for the serenity and solitude of ice fishing.
Because ice fishing is such a unique sport, which varies even further from lake to lake, you'll want to check with your destination of choice to see how the locals operate and what they recommend. As always, safety first! In general, though, you'll want to bundle up (it seems obvious, but you're not moving while ice fishing like you are when you snowboard or ski — hence, you'll feel even colder) and practice your patience, as the best catches can take hours to reel in. The pros say daybreak and early evening are the best times to drop your line, since you'll be playing to the frosty fish's natural hunger cues.
A Daring Double
And since you're getting an early start anyway... why not continue the day's adventure? If you're feeling especially ambitious, you can attempt to go ice fishing and saltwater fishing in the same 24 hours. (Or, to give yourself some leeway, the same weekend.) Just like wakeboarders can ride the snow and the water in the same day by traveling from California's mountains out to the ocean, so too can you fish iced-over mountain lakes and the Golden State's bays in a short span of time. If, of course, the conditions are right.
For example, according to the Tahoe Daily Tribune, Red Lake in Carson Pass can be a great place to go ice fishing — and it just so happens to be three hours from San Pablo Bay, a popular fishing spot that feeds into the greater San Francisco Bay.
As your family counts down the days until Santa's arrival, imagine fishing like Father Christmas himself — and maybe even plan your trek to the nearest icy lake to try it out! From our family to yours, we hope you have a very happy holiday season ahead.
---
Bookmark & Share
---
User Comments
Be the first to comment on this post below!