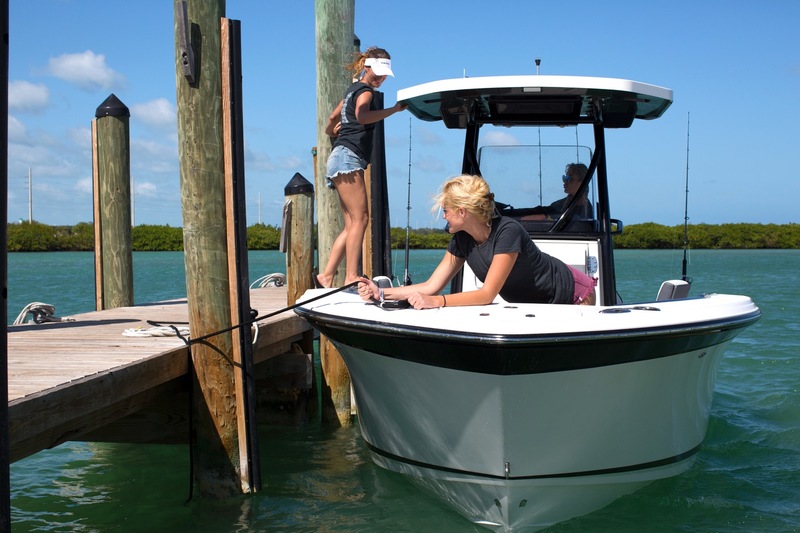 From the art of maneuvering a smooth, tight turn, to masterfully trolling for a whopper mahi, constantly learning new techniques is part of life as an angler—but in our book, the most essential skill to pick up is the art of on-the-water etiquette! When you cruise with kindness for your fellow boaters, you make your favorite waterway an even better place to be. Read on for a few tips on how to practice docking and on-the-water etiquette from your Blackfin.
Launch and dock efficiently
When it comes to using communal launches and courtesy docks, efficiency is key. Move as quickly as you can while still prioritizing safety for yourself, your passengers and your nearby boaters. (A buddy back on board that can assist with spotting is hugely helpful here!) That might mean skipping steps like rinsing off your boat, loading and unloading supplies or performing other maintenance. Save this all for later, or when you're in a less crowded spot, and your fellow boaters will thank you.
Practice patience for your fellow boaters
At the same time, be sure to practice patience for other boaters on the water whenever possible! When it comes to maneuvering a tricky launch for the first time, well, we've all been there—and some understanding from our fellow boaters can help turn a sticky situation into a calm, memorable teaching moment.
Slow and steady
While speed and efficiency are treasured traits at the boat launch, that doesn't mean foregoing caution and a steady approach, especially in high-traffic areas like the local marina. Even if you're a seasoned pro at swift, smooth maneuvers, these quick movements might startle or throw off your fellow boaters as they make their way out to the open water. (Of course, Blackfins are built for speed, so be sure to have some fast-paced cruising fun once you get out there!)
Save the music for the big, open blue
Another small but immensely appreciated piece of boating etiquette? Turn down (or turn off) the music while you're close to shore, especially if you're cruising in or out during quieter times of day like breakfast or dinner.
Practice "pack it in, pack it out"
Finally, show some kindness to your cruising environment as well! Embrace the "pack it in, pack it out" philosophy of backcountry campers, who leave behind no trace of their presence in an area by avoiding trash—reusable cutlery and containers can help with this—and respecting the natural environment from a safe distance.
We hope that these tips help you boat, fish and dock with kindness and compassion for your fellow boaters! Every day, you help make your favorite lake or waterway a fun, friendly place to be—and for that, the Blackfin family is ever grateful.
---
Bookmark & Share
---
User Comments
Be the first to comment on this post below!