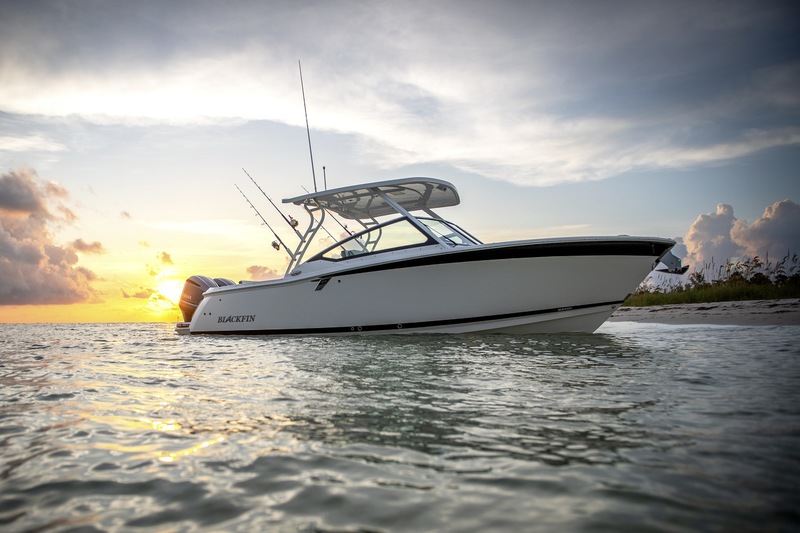 For anglers across the country, springtime marks a return to the fishing spots we love so much! If you just can't wait to throw on your lucky fishing cap and hop aboard your Blackfin, you are definitely not alone. We can't wait to rediscover stress relief, family fun, and (potentially) our next trophy catch of personal best out on the water this season.
As is the case with any excursion, you'll want to equip yourself and your crew for success! Here are a few quick tips to keep in mind for splashing results as you visit your local waterway this spring.
Layer up
Whether you are planning to go fishing at your local lake or an offshore destination, one tip remains true as ever – layer up! This is a handy tactic for boaters all year long, of course, but especially during the spring, when on-the-water weather can be famously fickle depending on the day and hour.
You can visit the Blackfin gear shop for stylish, functional sportswear you'll want to wear on the water! In general, though, you should try to opt for weather-proof outer layers and a lightweight, tight-knit base – which will allow you to enjoy milder weather comfortably, without over-exposing your skin to the sun. Don't forget a warm, comfy hat, depending on where you are angling.
Polarized shades are your friend, too – of course, it might have been a while since you last soaked up some sunshine, but they are seriously helpful in shielding your eyes from the glare and allowing you to see detailed action going on beneath the surface. You don't want to miss your catch swimming up just because the sun got in your eyes (a relatable experience for all of us anglers).
Sleep in
Now by this point, we have all heard the old adage that the early bird gets the worm – or, rather, the early angler gets the bass. Usually. But during springtime, there is an exception to this time-honored rule. Freshwater fish, like the much-coveted largemouth bass, will be slow to start in the cooler morning hours, but will be biting much more actively come the late-afternoon sunshine. So feel free to sleep in, just like the fish are doing! Or, use those early morning hours to explore different activities on your Blackfin – from a leisurely brunch, to sightseeing, to hopping aboard a canoe or kayak to see the water in an entirely new way.
Try to fish shallow water on warm, sunny days
As we mentioned a little earlier, spring weather (especially on the water) is known for being very erratic and back-and-forth. It can sometimes seem to be cool and cloudy one minute (or day, or week) and warm and sunny the next. During the latter, on those pleasant, sun-soaked stretches of springtime, you will want to fish more shallow freshwater areas for your best chance at landing the catch. There is actually a really simple explanation for this practice – during spring, when warm weather is sometimes slow to arrive and hard to come by, fish will look for the easiest way to warm up. And that is naturally at the surface.
The inverse of this tip is also true, however. On colder, and perhaps cloudier days, fish will be more reluctant to venture out from the comfort of their underwater digs – they're a lot like us humans, that way! – so you will want to check out grass, floating plants, underwater logs, and any other spot of cover that might be housing some spring bass and other coveted catches on your list. By keeping this handy rule of thumb in mind, you will know exactly where to search for your next catch depending on the weather and time of day.
Be sure to opt for slow-moving lures
Finally, remember to bring along the right tackle! Picking the perfect bait can mean the difference between a successful spring outing and a disappointing one (although, really, is any day out on the water ever truly disappointing?).
In our book, the best option for early spring – when fish are slowly but steadily trying to warm up with the weather around them – is slower-moving lures. Options like jerkbait can help you get the job done without scaring off slow, sleepy bass from the challenge altogether. (Remember – you want to draw the fish's attention without their potential snack seeming like too much of a chore or risky venture.) Jerkbait work well because of their slight shape and subtle movement, so stock up before your spring outing!
In addition to choosing the right tackle for the task at hand, you will also want to practice some patience. This is a virtue, of course, for anglers at any time of year in any body of water – but it can prove especially helpful for those fishing freshwater lakes in early spring, because the fish aren't in a hurry and it helps if you aren't, either.
Plus, patience only makes the day more fun! You get to enjoy your surroundings and rediscover your on-the-water digs at a leisurely, comfortable pace, which is perfect for your first few spring outings. Rest assured: The more fast-paced days of summer are not that far ahead, and we here at Blackfin will have tips to cover you then, too!
What are your go-to tips for landing the catch at this time of year? We'd love to hear them! And in the meantime, we hope you enjoy your spring fishing to the fullest – after a long, cold winter, you deserve it more than ever.
---
Bookmark & Share
---
User Comments
Be the first to comment on this post below!