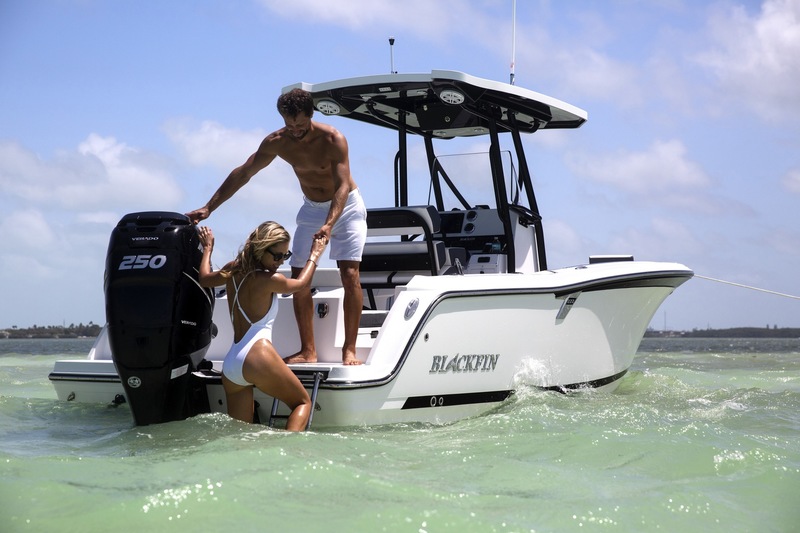 You already know Blackfin as a beloved brand for serious anglers—we share a name with one of the ocean's speediest catches, after all, and we live for helping our boaters build their fishing acumen with every outing! But did you know that your Blackfin is also a front-row ticket to all that the world of cruising and on-the-water fun has to offer? Just read on to discover a few additional activities that are easy to enjoy from your very own Blackfin Boat.
Snorkeler's best friend
As an angler, you're used to scanning the horizon for signs of mahi-mahi, marlin and sailfish breaking the surface, setting you up for the perfect catch. As a snorkeler, you can see fish (and the marine environment) in an all-new way! Discover a fresh perspective as you head beneath the surface and escape the hustle and bustle of life back above water. For Blackfin boaters, it's easy to achieve your first snorkeling trip with features like the recessed swim ladder and swim platform that come standard on our 222CC, allowing for effortless entry into the water. Just be sure to turn off your boat as you prepare for this fun, colorful underwater adventure!
Dinner and a show
If you're a foodie at heart, you no doubt crave delicious flavors and a beautiful backdrop to your next meal. These days, you may not be frequenting your favorite restaurants quite as often, but did you know that your Blackfin can double as an effortless on-the-water bistro? Cruise up to your favorite lakefront spot or marina with a pristine skyline view, and dig into a delicious al fresco meal—whichever Blackfin you happen to call your own, you will see that our on-board space is strategically laid out to maximize your family's comfort and ease of getting around (or passing the hush puppies). Select features, like the wet bar and optional cocktail table on your 252DC, further facilitate on-board dining for your ultimate, flavorful adventure.
Wildlife watching
Unlike some other fishing boats, your Blackfin is seaworthy enough to tackle both inshore and offshore adventures with ease and a comfortable ride—so feel free to venture out and explore a quieter slice of life on the open ocean! Craft your own wildlife watching tour and see shorebirds playfully glide along the water, or potentially spot dolphins skipping above the surface or riding in your wake. There's no limit to what you can discover with a Blackfin adventure.
Your perfect, do-nothing day
Of course, some days, you simply want to kick back, relax and meander along your favorite coastline—and on those leisurely days, your Blackfin is built to deliver! Spacious bows and beautiful cockpit seating allow for the whole family to unwind and comfortably soak in the scenery all around.
From fast-paced fishing fun, to your leisurely family day out, your Blackfin unlocks a world of on-the-water thrills to discover! If you don't already have a Blackfin to call your own, be sure to browse our models and Build Your Boat feature to learn more about our luxurious, performance amenities—and, of course, to find your ideal ride.
---
Bookmark & Share
---
User Comments
Be the first to comment on this post below!