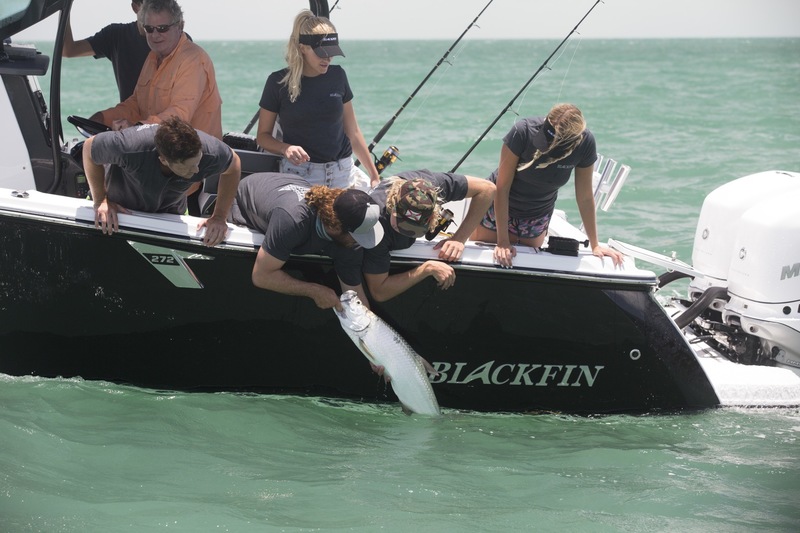 Very soon, all eyes will be on Tampa to see which team brings home the Vince Lombardi Trophy on Super Bowl Sunday. It's a true measure of achievement on the field—but here at Blackfin, we think catching a trophy fish is just as worthy of celebration!
All of us anglers have our own trophy fish in mind—coveted catches that might win us a tournament or simply help us achieve our own personal record. Whatever your case may be, here are some of our top tips for landing a trophy catch on your next outing.
Gear up
The path to your trophy catch begins at home! While your Blackfin Boat is the most essential piece of "gear" you will need for a serious chance at your big catch, other accessories are sure to come in handy. Bring along some polarized glasses so that you can see what others can't beneath the surface. Throw on your best, no-slip boat shoes. And most important, bring sufficient tackle and line for the task at hand! You have the skills you need—don't let your efforts be thwarted by insufficient bait.
Set your sights for success
One of the biggest questions you'll run into when trying to land a trophy catch is… where do I start? Sometimes the search for the big biters will come up so empty, you find yourself reverting to old childhood phrases like "here, fishy fishy!" to beckon the fish from below.
Fortunately, it doesn't have to be that hard. Your best chance of success is to thoroughly know your surroundings—not only the general type of species that are caught in your area, but the specific conditions of the water on that day. Do you see birds hovering around a specific patch of water, for example? This can clue you into the presence of small fish they're snacking on below… and where there's small fish, you can bet there are bigger fish nearby hoping to snack on them.
Sometimes you will naturally want to follow your fellow anglers on the water, to hot-spots where surely there must be some serious action beneath the surface. Often, this can be a good idea! But if you find yourself coming up short in these busy areas, you may want to scope out your own spot on the water, removed from the hustle and bustle. You might stumble upon a thriving fishing hole without even realizing it!
After all, to catch the trophy fish no one else is catching, sometimes you have to go where no one else is fishing.
Hold your fish safely
Safe, fish-friendly handling can make all the difference! When you catch a real whopper, like a monster mahi-mahi, you will want to support it from below. Plus, you will want to wet your hands a bit to help maintain the fish's natural "slime" coating.
Capture the moment
Time to smile! Catching a personal-best fish is always a moment to celebrate. Have a friend be on standby to snap the perfect shot—they can play with the exposure beforehand and even opt for a video or use the phone's "burst" function to make sure not a moment is missed. Because as we all know, a fish out of water can get pretty slippery and jumpy!
After the catch
When it comes to your trophy catch, what happens after the reel-in is just as important as what happens before! If you are practicing catch-and-release, have your angling buddy take a quick photo as you use the safe holding technique we mentioned before. Then, gently place your fish back in the water so that it can safely swim away on its own. (Tip: In certain places, you may be able to catch and release a specific fish species but cannot bring it on your boat—such as tarpon in Florida—which means most boaters will hop out of the boat and hold the fish while still in the shallow water below. Just check out your local regulations to know what the case is for you!)
If you are bringing home fish for dinner, the same safe handling rules apply! On your Blackfin, our spacious fish boxes gives you an easy way to do this.
We hope that these tips help you catch (and capture) a trophy fish you'll be proud of! Be sure to share your proud catch photos and on-the-water moments with Blackfin—we can't wait to see what you accomplish on your boat.
---
Bookmark & Share
---
User Comments
Be the first to comment on this post below!