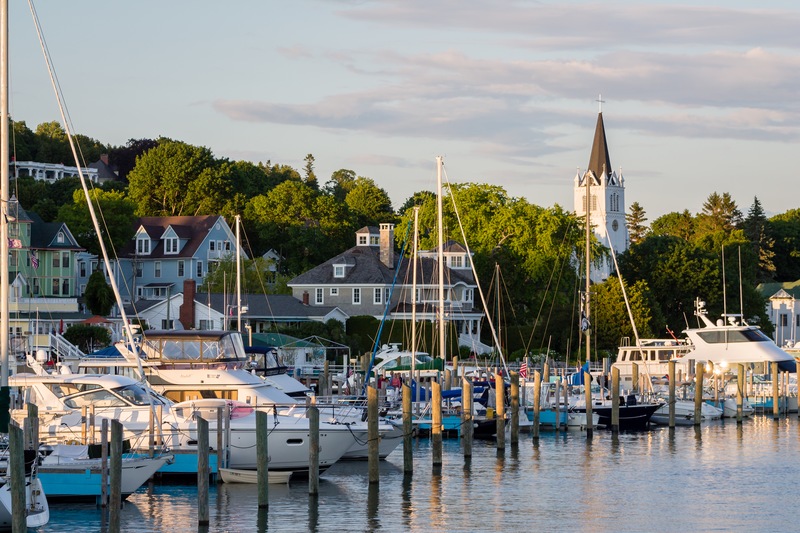 May marks the beginning of the summer season on Mackinac Island, the tiny Michigan community you can only get to by boat. What Mackinac (pronounced Mack-in-aw) lacks in square miles — less than 5 in total, FYI — it more than makes up for in breezy charm and its warm embrace of the lakefront lifestyle. Then there's the fishing: Lake Huron's thriving fishing scene makes Mackinac especially fun for anglers in search of that perfect summer outing.
Just read on for a virtual tour of Mackinac Island, and how to explore it from your Blackfin Boat this summer!
Meet Mackinac Island
Mackinac's name comes from the local native population's "Michilimackinac," or "place of the great turtle." (Fun fact: from above, the island does, indeed, look like a giant, resting turtle!) You'll begin your adventure at Mackinac Island State Harbor, a public marina where you can house your Blackfin between fishing trips. You won't find cars on the island — so why not explore the myriad of charming shops and restaurants by foot, or perhaps horse-drawn carriage? If you're craving a back-to-nature experience, you can even hike 70+ miles of trails to discover the island from an all-new perspective.
Surrounding Mackinac is a rich, cerulean water so beautiful, you'll think you were transported to a tiny Caribbean island. What's the deal? According to NASA's Earth Observatory, white quartz sand and sediment in Lake Huron and Lake Michigan (its next-door neighbor) results in the stunning color. French explorers even dubbed it "La Mer Douce," aka the freshwater sea. The bottom line? If you're craving a taste of the sea on your Great Lakes getaway, Mackinac and Lake Huron have you covered.
On The To-Catch List
Once you've rested and refueled on land, it's time to hit the water on your Blackfin and do some fishing! Fortunately, there are many different kinds of fish to try for at this time of year — and a major player is salmon, a favorite for many anglers. You'll find Chinook, coho and pink salmon here, and your best bet is to use trolling spoons to catch their eye. The way these lures move in the water — dancing in the light as they go — are irresistible to salmon, and using them gives you a way to cover a large stretch of open water in a short amount of time.
As for other fish, be on the lookout for mighty pike, trout, sturgeon, steelhead, rainbow trout, and many more!
Exploring Lake Huron
You could spend an entire weekend fishing off the coast of Mackinac Island and still want to keep casting your line — and hey, there's definitely enough underwater terrain to cover and fish to catch! However, if you want to diversify your adventure, there are even more ways to explore Lake Huron's vibrant expanse.
For starters, there's no shortage of landscapes to cruise past on your Blackfin Boat. Just below Mackinac Island, you'll find Round Island — an even smaller piece of land with just one building, the 19th-century Round Island Light, which can be admired from the water. Or, if you're sticking closer to the "Great Turtle," you can rent some kayaks and get even closer to the pristine water's surface. Don't forget to gaze up at Arch Rock, the unique limestone formation on the east coast of the island.
We hope that today's guide helps you discover the best that Mackinac Island (and the surrounding stretch of Great Lakes) has to offer! From your Blackfin Boat, there's no limit to the carefree lakefront hideaways you can discover this summer and beyond.
---
Bookmark & Share
---
User Comments
Be the first to comment on this post below!