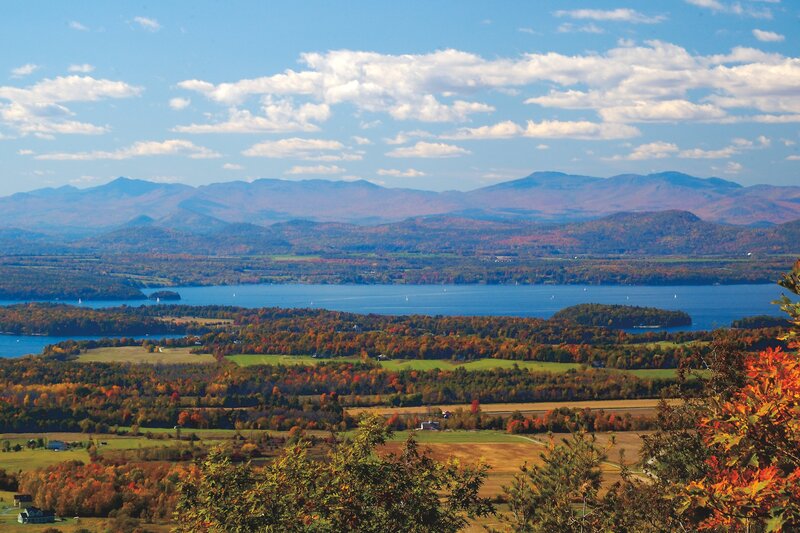 The Great Lakes are known for endless boating and fishing fun, with each of the five lakes providing something special — from the boundless beauty of Lake Superior (the country's largest lake!) to the easy charm of Lake Huron, home to Mackinac Island and abundant lake trout. But if you're looking for a unique late-summer destination for your Blackfin fishing boat, might we recommend the forgotten sixth Great Lake?
That's right: After Huron, Ontario, Michigan, Erie, and Superior (the classic "HOMES" acronym comes in handy), there is another. Or at least, there was another. For a brief period of time in 1998, Lake Champlain was officially considered a Great Lake.
The designation was the result of one tiny line in National Sea Grant College Program Reauthorization Act of 1998. The bill concerned research funding — and noted that, for the purposes of the act, "the term 'Great Lakes' includes Lake Champlain." Perhaps unsurprisingly, the act courted controversy — and one Ohio lawmaker even suggested the lake should be called "Lake Plain Sham."
The loophole was quickly removed, but Lake Champlain was still able to access research dollars as planned. And to the people who love Lake Champlain, or maybe even call it "home," it's still pretty great in its own right — never more than at this time of year, when you can savor the last bit of summer fishing and watch the leaves began to change before your eyes.
Thinking of checking it out for yourself? Here's a brief rundown of the Lake Champlain fishing scene — and how to best enjoy it at this time of year!
What's Biting?
Despite being smaller in size than its Great Lakes counterparts, Lake Champlain is big on fishing. Some of the species you may be able to reel in include northern pike, largemouth bass, yellow perch, lake trout, and many more. Then there's the salmon! Early fall is primetime for the fall salmon run, so you'll want to focus some of your fishing efforts on landing a big one.
Tips For Landing The Catch
Speaking of... how should you do that, exactly? According to New York's Department of Environmental Conservation, worms work well for salmon in the early part of fall — which we're entering now!
As a general rule, you can't go wrong checking out shoreline rocks and other shallow areas. Fish love cold, deep water during summer — but as the weather cools, they won't mind basking in that extra sunlight closer to shore. You can improve your odds by fishing vegetation and enlisting the help of moving baits that will drum up a scene underwater.
Beyond The Bait
Regardless of what you find at the end of your line, there's a dreamy allure to Lake Champlain at this time of year. The lake, which sits on the border of New York and Vermont (and pokes into Canada, too) is one of the first places to see fall foliage every year, typically peaking by early October. One of the lake's especially scenic stretches can be found at the center, where a string of islands provide a one-of-a-kind cruising backdrop — and even more shoreline for you to try for those coveted, shallow-water catches!
We hope you've enjoyed today's virtual tour of the sixth Great Lake! Be sure to share your favorite Lake Champlain memories with us on social media — we can't wait to see where your Blackfin brings you, this fall and all year long.
---
Bookmark & Share
---
User Comments
Be the first to comment on this post below!