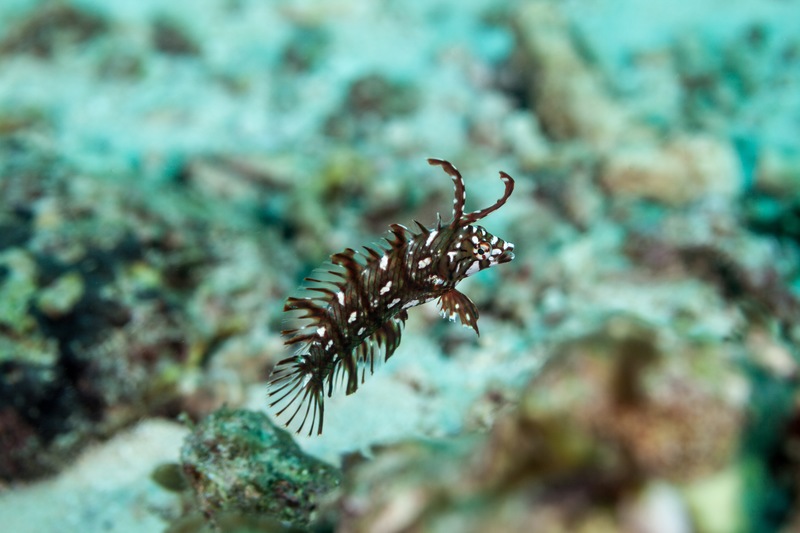 It's that time of year again: time to deck the halls and enjoy all the sights of the season, from twinkling trees to happy snowmen and beyond! But we anglers know that there's just as much going on beneath the surface — from Christmas tree-shaped marine plants to fish that bear a striking resemblance to Santa's fleet of reindeer.
Yes, really: the reindeer wrasse (scientific name: Novaculichthys) dwells in some of the world's most beautiful stretches of warm, tropical ocean — but its appearance, complete with antler-like appendages, will make you think of your favorite winter character. And like everything the ocean has to offer, Blackfin's fishing boats get you closer to spotting one of these adorable creatures in the wild! Just read on to learn more.
What's In A Name?
For a fairly little fish, Novaculichthys sure has a big reputation — and all the names that come with it. There's reindeer wrasse, of course, a reference to juvenile's appearance, which features two long dorsal fin spines that definitely look like antlers. (However, unlike Santa's bunch, young reindeer wrasses tend to work alone, and don't yet have the teamwork skills needed to deliver a sleigh full of goodies.)
Novaculichthys also goes by another fitting nickname, rockmover. This is a nod to how the little wrasse pulls or pushes coral and other debris to uncover potential prey living underneath — kind of like a bulldozer! By adulthood, the wrasse will team up with a friend for this operation — with one doing the rock work, and the other doing the snacking.
Where To Find This Festive Fish
If you prefer to spend your holiday season somewhere bright and balmy, there's actually a chance you might see the reindeer wrasse in action! They dwell in several tropical locales, including the Pacific Ocean surrounding Hawaii and Polynesia, and the young ones — i.e., the juvenile "reindeers" — prefer to spend most of their time hovering around the rocky terrain of shallow reefs. This happens to be a great place for snorkeling, too, of course! Experienced snorkelers may already know their favorite spots around The Aloha State's marine terrain. (Tip: Blackfin models equipped with dive doors make snorkeling a breeze!)
However, you can also consult with local guides to plan a snorkeling adventure you love. Say "Mele Kalikimaka" to the island state's holiday offerings by night — and by day, have fun splashing around the water. Over on the Big Island, you'll find Kealakekua Bay, which is widely regarded as the best place to snorkel in the state (and one of the best in the world, too). The coral shelf starts very close to shore, so you don't need to swim far to explore the colorful underwater world that awaits. Angelfish and yellow tang are some of the eye-catching fish you'll be able to spot — however, finding the reindeer wrasse might take a little more work. Juveniles may be mistaken for floating scraps of seaweed, if you don't know to look out for those tiny little "antlers."
The reindeer wrasse is just one of countless reminders that the ocean is vast, and full of life that comes in all shapes and sizes — even surprising ones! We hope this festive little fish helps brighten up your holiday season, or maybe even inspires your next Blackfin excursion.
---
Bookmark & Share
---
User Comments
Be the first to comment on this post below!