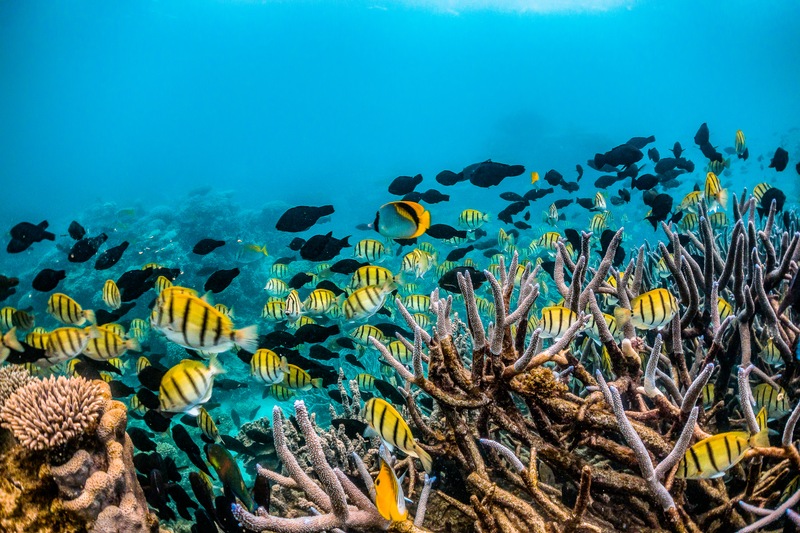 Finally, a switch of season! Spring is the time of year when our surroundings come back to life in lush greens and blooming, rosy pinks – but below the surface of our favorite tropical destinations, vibrant plant life abounds all year long! It's a special visual treat reserved for the fish and those of us who proudly sport snorkel gear to get an up-close look.
Just read on to learn more about underwater plant life, and how to enjoy some of our favorite snorkeling destinations from the smooth ride of your Blackfin Boat. Take a look.
Tips for safe snorkeling fun
Before you go out for your day of snorkeling, it helps to have a few safety tips in mind! Turn off your Blackfin and step into the water carefully (made effortless with the help of a transom walk-thru door), and place your diver's flag above the area where you will be snorkeling. It's a handy reminder to your fellow boaters and snorkelers that someone is underwater.
Also, your choice of snorkeling spot is an important one. You will want to opt for a popular patch of water (like some of the destinations we'll explore below) where others are snorkeling, as opposed to a high-traffic cruising channel where boats may be moving quickly through the water. Not only is this a smart safety measure, but it also gives you a good chance of spotting some great, colorful fish and environments! As is the case with angling, following in the footsteps (or fin-prints) of your fellow adventurers is always a good idea.
Once you are underwater, the best rule of thumb to keep in mind is to look – but don't touch! Unlike beautiful plants and flowers you might want to pick above the surface, underwater flora (and invertebrates that look like flora) can be sharp to the touch. Plus, in general, it's best to let the unique marine ecosystem do its thing undisturbed! This helps keep the environment beautiful for all.
One more tip: In addition to a life preserver and snorkel mask (perfect for those who want to explore the H2O without swimming too far down), one of the most important "accessories" to your snorkeling adventure is a good, reef-safe sunscreen. The right sunscreen won't have loads of artificial scents, and will also skip out on toxic ingredients like oxybenzone, octinoxate, methyl paraben, butyl paraben, or phenoxyethanol.
A guide to underwater plant life
Now that you are ready to go and equipped for the adventure at hand, you may be wondering… what will I found out there? Much like sightseeing back on land, this depends on where in the world you're snorkeling – but a few of our favorite sights include red sea whip, a soft coral that sways in the water; colorful anemones; seagrass, home to a wide variety of reef-dwelling fish; and so many more. While we might offhandedly refer to most of the reef ecosystem or snorkeling environment as "plants," however, many of them (like the coral) are actually invertebrate creatures.
Crystal River
Snorkeling thrives in tropical destinations with plentiful shallow, sparkling water – and of this, the Sunshine State is in no short supply. At the heart of Florida is the gorgeous Crystal River – already a hugely popular place to kayak or cruise, but also a bona fide adventure in the form of freshwater snorkeling. What the river lacks in vibrant offshore hues, it more than makes up for in manatees that love to snack on the riverbed's grass down below! The chance to see one of these gentle giants (aka sea cows) in action is more than enough reason to embark upon a Crystal River snorkeling adventure.
The Florida Keys
Did you know that North America's only coral barrier reef can be found in the Florida Keys, at the National Marine Sanctuary? Discover gorgeous, colorful coral beneath the surface – then, continue the splashing fun by venturing offshore on your Blackfin and trying your hand at a variety of offshore catches! Tarpon, mahi, sailfish, and so many more can be found in this tropical paradise. (Tip: All of the ample, built-in storage on your Blackfin allows you to effortlessly store fishing rods, tackle, and snorkeling gear alike – so you can prepare for a day full of on-the-water fun!)
La Jolla
We're hopping over to the West Coast for the next stop on our snorkeling tour – this time, to La Jolla! The charming neighborhood, located in the greater San Diego area, boasts some seriously beautiful ocean views and one-of-a-kind cave formations that make for excellent snorkeling opportunities. Animals of all kinds are star of the show at this unique snorkeling locale – from sea lions to playful dolphins, octopuses, guitarfish, rays, and so much more. You might also stumble upon stunning kelp forests right by the cove! (Tip: With so many unique caves and underwater terrain to discover, some adventures are more beginner-friendly than others. So check with the local guides to see what is the best pick for your unique experience and preferences.) Either way, these views don't disappoint. Plus, after a day of snorkeling fun, you can cruise along the coast and catch the sunset from beautiful beach perches – like Torrey Pines, Sunset Cliffs, and beyond.
Here's to a spring (and summer, and beyond!) filled with snorkeling fun the whole family will enjoy. Of course, every trip underwater offers something totally new and exciting to discover, making each and every one of your snorkeling vacays truly one-of-a-kind.
---
Bookmark & Share
---
User Comments
Be the first to comment on this post below!