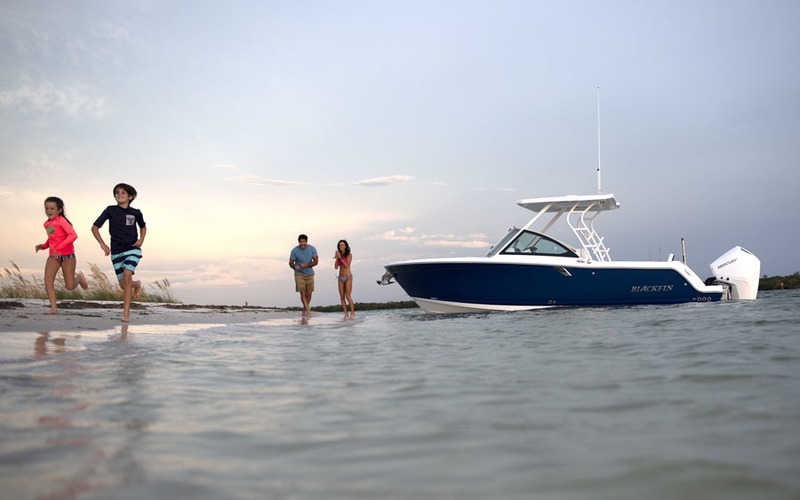 From the comfort and smooth ride of your Blackfin, a world of fishing fun is yours to discover! As you look for ways to enjoy on-the-water moments with your family this summer, take a look below for five of our favorite ideas.
Organize a virtual fishing tournament
You can stay safe while still enjoying the thrill of a fishing competition or tournament—just throw your own! Family and friends can cruise out to their preferred destination separately and keep space as they try to land the big catch—then, use a Facebook group or other online tool to report back on your catches, take scores and assign rewards for the big day.
You can also use your time online to hone your skills and prepare for the next big event! Brush up on techniques or check out the latest tackle tips for your preferred catch, and return to the water a fishing pro.
Bring home a delicious dinner
Treat your family to a delicious al fresco dinner that you bring home yourself! May is National Barbecue Month, after all, so get the grill going after a sun-soaked day on the water and cook up fresh, flavorful treats like Mahi-Mahi, snapper and other favorites. Pair your meal with breezy beach music and string up some lights to enjoy a dinner that feels like something straight out of your favorite tropical tiki spot.
Curate your ideal fishing playlist
We've all been spending some more time at home, which gives you plenty of time to curate your perfect fishing playlist. Pick a variety of tunes—some to pump you up and lean into the thrill of the catch, and others to help you unwind and soak in the leisurely pace of the sun, waves and a day well-spent on the water. Use your freshly curated playlist to enjoy your next fishing trip to the fullest!
Explore somewhere new
This summer is a great time to explore the local lakes, coastal spots and hidden-gem fishing holes that you may have overlooked before! Have a summer staycation and discover the angling opportunities that abound in your very own backyard, all from the comfort of your very own Blackfin. You might even try a new style of fishing altogether—like surf fishing from a quiet sandy spot, or fly fishing the flats from your Blackfin deck.
Build your dream family fishing boat
Don't have a Blackfin of your own yet? One fun family activity might be designing what your dream ride would look like. Use our online Build Your Boat tool and have each member of the family try their own spin on different styles, color options and other fun features. This can be a just-for-fun project or, perhaps, the start of your very own boat ownership journey! Who knows where it will take you? Play around and see what fishing boat features speak most to your own style and preferences—from flexible seating for the whole family to swim ladders, spacious casting decks and much more, there's truly something for everyone to enjoy aboard a Blackfin of their own.
Fishing fun abounds on every Blackfin outing, so find your next adventure and enjoy! We hope that these ideas help you savor even more meaningful moments on your boat.
---
Bookmark & Share
---
User Comments
Be the first to comment on this post below!