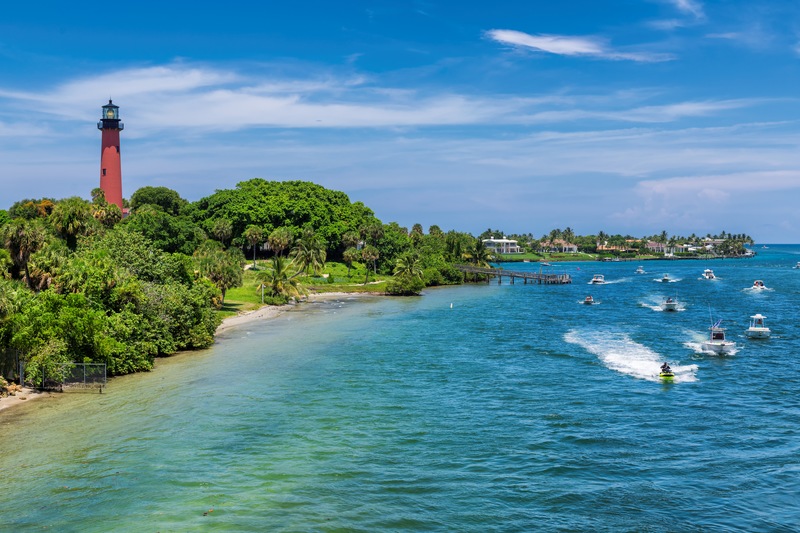 Craving a shift of perspective on the water? This National Lighthouse Month, one of the best activities for anglers might be to climb up your nearest beacon and see the H2O in an all-new way!
Whether it's a local landmark or a new destination, exploring a beautiful lighthouse can make your angling experience even better. Wondering how? Just read on to learn more.
See Your Stomping Grounds In A New Way
Everyone loves the grand, sweeping views afforded by a trip to the top of a lighthouse — but anglers appreciate them on an entirely different level! With a bird's eye view, you can see even familiar waterways in a new way: where are there shallow patches of water? Where do fellow boaters tend to crowd, and where are potential fish being missed? Are there mangrove passageways or small islands you'd like to explore — but didn't see the first few times around?
The chief purpose of an active lighthouse is, of course, to light the way for boaters out on the water — but it can also serve as a navigational aid for those who would like to understand their environs even better. As anglers, we can sometimes get so focused on the water we're fishing that we can miss the bigger picture from time to time. Lighthouses help fix that common problem in a truly breathtaking way!
Learn About Local Angling History
Many lighthouses also shine a light on past sailors, lighthouse keepers, and anglers — which can be a plus for those who are history buffs and love to fish.
Work Out Your Fishing Muscles
From a purely practical standpoint, climbing up a lighthouse can be quite a workout for your calves and core — i.e., the muscles needed to hold your own on a successful fishing outing!
Bonus: Where To Climb?
Now that you know why to climb a lighthouse this summer, you may be wondering — where do I start? Here are a few lighthouses located across the country that might be worth adding to your angling adventure:
Harbour Town Lighthouse: Located at the heart of charming Hilton Head, South Carolina, the Harbour Town Lighthouse's iconic red and white stripes are sure to catch the eye — but it's the view from above that will really last in your memory. Get to know Daufuskie Island, or cast your gaze on the majestic Calibogue Sound. Different fishing opportunities abound in every direction!
Ponce de Leon Inlet Lighthouse: The fiery red of this Florida lighthouse is bold — a lot like its history! The iconic East Coast light is the tallest in the Sunshine State, and is known for playing a pivotal role in the rescue of author Stephen Crane in 1897. After exploring the light, get to know the H2O it's been watching over for more than 130 years: local anglers especially love fishing for barracuda, redfish, and king mackerel during these late summer months.
Old Point Loma Lighthouse: This charming San Diego lighthouse was one of the first ever built in California — but marine fog made it difficult for ships to see its beacon. Though this dangerous element eventually led to the lighthouse being deactivated, you can still visit the beautiful structure today! While you're in town, be sure to enjoy some local San Diego fishing. Bonefish, dorado, and marlin are just a few of the popular catches you'll find in local waterways.
What's your favorite lighthouse you've ever been to — or perhaps a light you've always wanted to visit? Let us know and enjoy a fishing trip there, soon!
---
Bookmark & Share
---
User Comments
Be the first to comment on this post below!