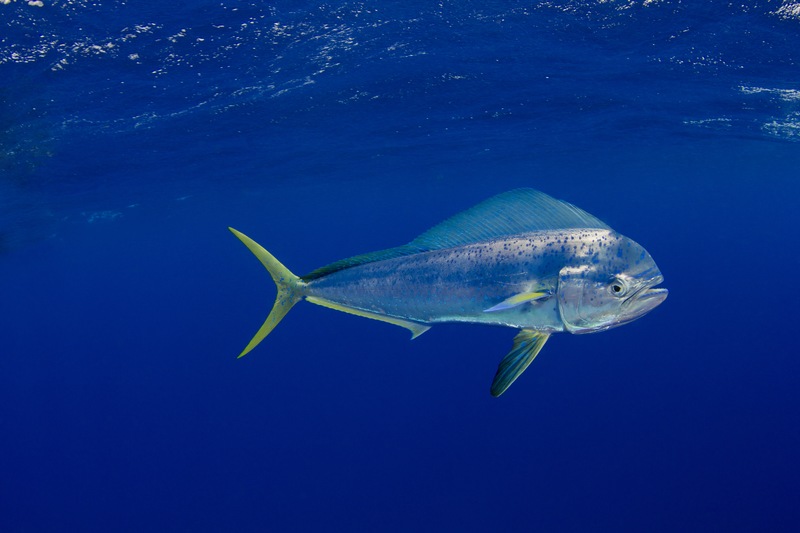 Known for their swift speed, strong fighting style and gorgeous flash of iridescent blue and green, mahi-mahi are a treasured tropical species for many anglers—and your Blackfin is built to help you land the catch in style! Read on for a few simple tips to ensure success on the water (or, at the very least, a great time trying). Take a look.
Know where to go
While mahi-mahi are perhaps most closely associated with Hawaii, from whose language they earned the name meaning "very strong," they can actually be found in warm offshore waters all around the globe. South Florida (on both the Atlantic and Gulf coasts) and California's Catalina Island are a few choice destinations that also happen to offer excellent boating, swimming and splashing around.
Gear up for success
In addition to sunscreen and your lucky fishing hat—plus some polarized shades for effortless visibility on the surface—you will want to reach for some sturdy braided fishing line for your mahi-mahi adventure. This line is built to reduce stretch and withstand a tough fight (which your mahi-mahi may very well put on), taking up less space on your spool so you're up to the task of a lengthy challenge.
Look for disturbances on the water
The experienced angler knows to scan the horizon for potential disturbances—a fluttering of sea birds, a diving pelican, a floating line of seaweed. These features signal action beneath the surface—even if they are not foolproof, they are indicative of some kind of action nearby, and usually help produce a fruitful search! The presence of seaweed and floating debris is especially worth watching for mahi-mahi, as these fish love to hang out in these spots while searching for bait.
Troll smart
Now that you have successfully geared up and spotted your ideal fishing zone, you're ready to land the catch! Well, almost. Experts agree that trolling is one of the best methods for catching mahi-mahi, ideally at a speed of about seven miles per hour. This allows you to attract mahi-mahi at a lively pace they're most comfortable at—in addition to being strong, mahi-mahi are fast, too! –while giving you a great way to cover the area in a short amount of time. Large baitfish is a great option, while some recommend adding chum directly to the water to drum up a frenzy before actually casting your line.
Bring it on
Once you've got a monster mahi-mahi on the end of your line, it's time to land the catch! A slow and steady approach is best. Pick a spot for good traction on your Blackfin's casting platform (and be sure to sport your best no-slip shoes for the ultimate advantage). You're well on your way to a photo-worthy mahi-mahi.
Of course, when it comes to mahi-mahi success, the best tip is to practice, practice, practice. Learn by doing and pick up additional insights every time you hit the water—from the comfort and control of your Blackfin fishing boat, trial and error has never been so much fun!
---
Bookmark & Share
---
User Comments
Be the first to comment on this post below!