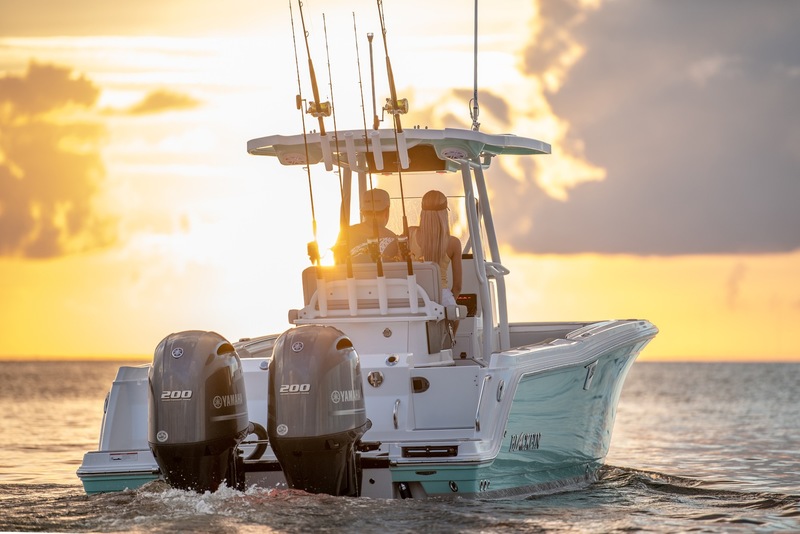 Is the wide-open offshore expanse calling your name? If so, you're not alone! Fortunately, the marine environment is vast enough to give every boater, angler and outdoor adventurer room to explore—ideal for these days, when we're working to safely social distance at work and play.
Read on as we share a few smart, simple tips for optimizing your offshore adventure from the comfort of your own Blackfin. Take a look.
Follow the rule of thirds
When embarking upon an offshore adventure, it is always helpful to plan ahead—especially if you are new to the offshore scene, or the specific destination you're exploring. One easy way to remember this is to follow the rule of thirds! It goes like this: Reserve one third of fuel for the trip out, one third of fuel for the way back, and one third for just-in-case situations. This helps ensure that you and your boat are prepared for a fun, worry-free day on the water!
You should also take some time before your trip to check on the marine weather forecast, so you know what to expect and when you might want to head back to shore.
Cover up
One of the most alluring elements of offshore fishing is its remoteness from life back on land—of course, when it's just you, the fish and the water, you are especially susceptible to sunburn. Cover up and slather on the sunscreen, and reapply regularly to extend your adventure. (Of course, with the hardtops that come standard with Blackfin Boats, you always have a cool slice of shade to escape under on sunny days!)
Fish like a bird
When it comes to scoping out the perfect spot for casting your line, your most trusted angling companion ought to be the birds. These feathered friends go "fishing" all day, every day for their own meals, so it's no surprise that their presence can clue you into action below the surface. Scan the horizon for water birds congregating above a potential hotspot on the water, or diving right in—these are sure signs that there may be fish to find in that area!
Follow the seaweed (and other potential cover spots)
Another likely sign of fish beneath the surface? Seaweed, logs and other debris floating on the water. These spots often serve as potential cover and feeding grounds for the larger catches you're looking for.
Have fun
Our most important tip for any offshore adventure? Have fun! It may seem like a given, but it's worth remembering. Landing the catch is a great way to cap off your adventure, but it's not the only reward from a long day on the water. Enjoy every moment of the ride and be especially on the lookout for blink-and-you-miss moments, like the serendipity of dolphins riding in your wake or, mahi-mahi leaping from the water for a colorful display.
We hope that these tips help you enjoy your next offshore excursion to the fullest. Of course, whether you're sticking close to shore or cruising to new horizons, your Blackfin is built to help you handle every adventure with ease, comfort and style.
---
Bookmark & Share
---
User Comments
Be the first to comment on this post below!