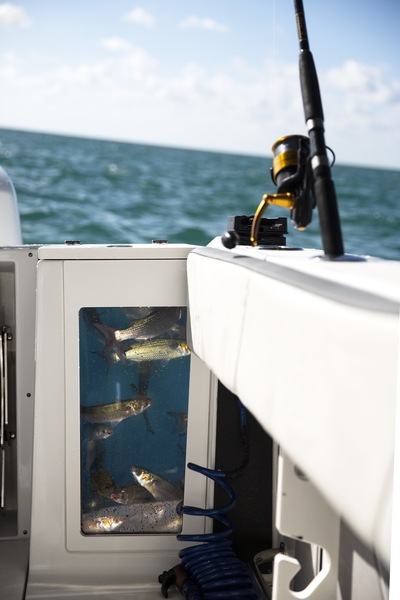 From the tackle box to your thoughtfully selected rod and line, the experienced angler depends on a wide variety of trusted tools to reel in their catch. But don't forget about one of the most important features on your Blackfin—the baitwell!
Whether you're new to the angling game, or simply want to learn more about how helpful this tool can be to fishers of all skill levels, we've got you covered. Take a look below to learn more.
Fresher-than-fresh bait
For many anglers, nothing beats the tried-and-true method of fishing with live bait (and it goes without saying that the fish are pretty crazy about it, too). Live bait can be an especially helpful tool during low-visibility situations or overfished waterways where your bait of choice needs to really make a splash underwater.
But without a baitwell, it can be hard to find a convenient place to prepare and store your baitfish before casting your line.
That's why you will find an insulated baitwell (in sizes ranging from 18 to 35 gallons) standard on every Blackfin. These specialized containers circulate water to provide the ideal environment for your baitfish, so that they stay alive for the entirety of your angling excursion.
Building a better baitwell
At Blackfin, we took a standard feature of fishing equipment and made it, well, a little less standard. Blackfin's baitwells feature built-in lights, insulation and lids that double as cutting boards (perfect for preparing chum before reeling in the big one!). Plus, their see-through exterior lets you keep an eye on your baitfish and monitor conditions so that you can ensure a healthy environment as you cruise.
It's more than a purely functional feature, of course. Young anglers will love seeing baitfish swim around as you cruise, learning to draw connections between the aquatic environment and those who call it "home."
Where style meets function
Like every feature on your Blackfin, our baitwells are designed to blend the best of both style and function. A streamlined visual feature and an angler's best friend. You can help keep your baitwell looking and working its best with quick, regular cleans between fishing trips.
Your baitwell helps provide for even better fishing fun! Enjoy it as a standard part of your Blackfin cruising and angling adventure—on our boats, luxury style and function are all part of the experience.
---
Bookmark & Share
---
User Comments
Be the first to comment on this post below!