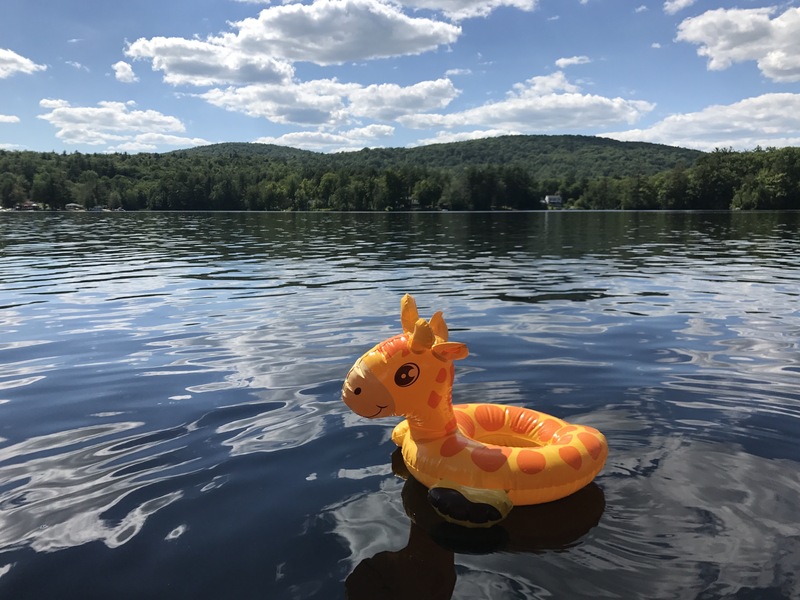 Spring has sprung — well, almost! It's nearly that time of year when the prospect of hopping from a Blackfin fishing boat into the sparkling water below doesn't sound crazy and chilly, but refreshing and cool. So why not combine the thrill of fishing, with the easy leisure of lounging around in a tube or raft?
Indeed, fishing from an inflatable is possible — and fun!
Here are just a few reasons why we love this buoyant take on fishing, and how to incorporate it into your next on-the-water outing.
Effortless Storage
There are countless water toys and gadgets anglers can use to upgrade their on-the-water adventure — but not all of them are as storage-friendly as a basic inflatable. You can easily stow your tube or raft in one of your Blackfin's storage compartments for effortless access when you're ready to hit the H2O. (A tip for longevity? Make sure your tube is thoroughly rinsed clean, dry, and deflated when you pack it up for the day. This will help keep it seaworthy for many outings to come!)
A Chance To Get Closer To The Water
Another reason why we love the idea of angling from a float? It gives you the chance to get closer to the water! As spring begins to settle in, we'll all be looking for a chance to cool off — and the buoyant pleasure of riding a raft or float means you can dip a toe (or foot, or leg) into the water without submerging yourself completely. It's the easy balance that spring weather calls for!
Serious Relief
Aiming to hit the ground (er, water) running this spring? After a long winter inside, there's probably nothing you want more than to spend long days on the water. However, spending hours on your feet while wrestling with a monster tarpon or mahi mahi is no easy task! If you find that you need some joint or muscle relief, consider working an inflatable fishing float or raft into your angling routine — for a chance to unwind without losing the on-the-water momentum.
To Make The Most Of Your Floating Adventure...
Convinced to take the plunge? Congratulations! Here are a few tips for your perfect float fishing adventure:
Choose the right ride! You might consider starting with a sturdy raft or inner tube in your own collection — but did you know that you can actually buy inflatable seats made specifically for fishing? This might be worth the investment if you plan to spend more time on (or in) the water this spring, as it will help ensure your best possible posture.
Know your surroundings. Obviously, float fishing lends itself to certain on-the-water environments — think, a local lake or sandbar as opposed to your fishing offshore fishing grounds.
Suit up. Just as you would wear a life jacket on your boat, do so on your float, too! Your inflatable tube or raft makes for a bouncy ride, but doesn't ensure your safety in the same way that a life jacket (aka, personal floatation device) does.
Have you tried this unconventional fishing method before? Let us know and share your snaps from the water!
---
Bookmark & Share
---
User Comments
Be the first to comment on this post below!