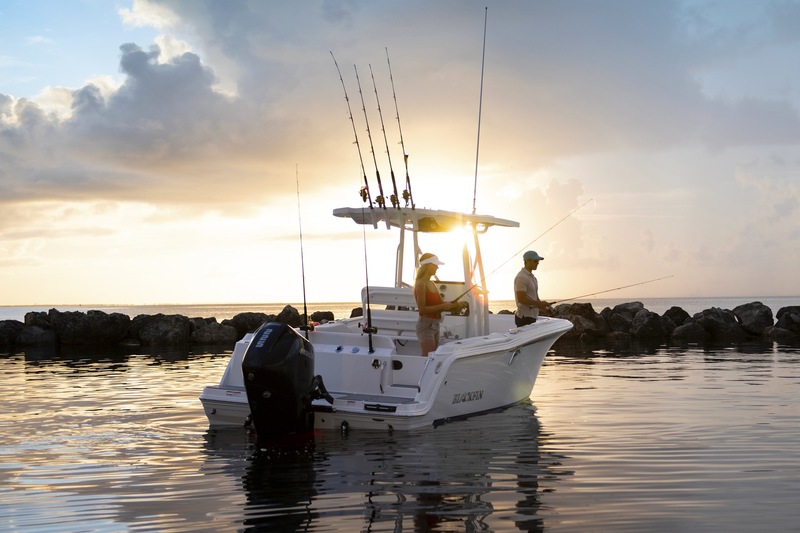 During a year that kept many of us inside, our boats opened up new horizons in an extra meaningful way — giving us a chance to hit the water, see friends from a distance, and bring home so much more than the fresh catch in our fish box. According to research from TakeMeFishing.org, 3.1 million people took up fishing and boating in 2020 (the highest increase in five years!). Whether you were one of them, or simply increased your love of fishing and boating on your Blackfin in the last year, here is a look back at the ways our favorite on-the-water pastime made — and continues to make — a difference in our lives.
The Really Great Outdoors
Never have the outdoors been so appealing! In 2020 and well into the future, fresh air and our Blackfin boats gave us a retreat from our routines indoors — freedom to fish, splash around, enjoy dinner al fresco, spend a night under the stars, and so much more.
Getting Back To Basics
Many of us have embraced nostalgia over the last year — enjoying old favorite TV shows, for example, or catching up with their 21st-century reboots. There's a reason nostalgia has prevailed in recent memory — it reminds us of life's simplest pleasures and happy memories, and fishing goes right along with that recollection!
Maybe you had a favorite memory of learning to fish as a kid, or a beautiful fishing spot you want to revisit. Either way, fishing and boating gives us a way to access our inner child and the fun, carefree memories that go along with it (and, of course, make some new memories along the way).
Thrills In Your Control
Safety first! Though we took a break from many attractions in 2020 like movie theaters, guided travel tours, live performances, and more, our boats put the thrills in our own hands — giving us a personalized way to enjoy fun family moments on our own terms.
A Way To Connect
Though social connection was stilted in many ways over the course of 2020, in other ways it flourished. We harnessed the power of video calls for gathering "in-person" without being, well, in-person, for example — and hit the water to connect with friends and fellow boaters from a safe, comfortable distance. Virtual tournaments and tours also gave us ways to expand our horizons from the comfort of our own go-to fishing hole.
More Than Just Fishing
According to the TakeMeFishing.org respondents, those fresh to the fishing and boating scene aren't sticking to those sports alone. They're using their newly discovered on-the-water digs to continue the fun with activities like camping, swimming, biking, thrilling water sports, and so much more! Who knew our collective desire to escape life on land would result in so many new hobbies and pastimes?
If you've stumbled upon a passion for more than angling alone in 2020, you're in good company. Fortunately, your Blackfin is built to foster fun in all its forms — including snorkeling, leisurely cruising, and much more.
These, of course, are just a handful of the endless reasons we took to the water in 2020 — but don't expect this trend to stop anytime soon. According to those surveyed by TakeMeFishing.org, the vast majority of new anglers and boaters plan to keep up their hobby well into the future!
---
Bookmark & Share
---
User Comments
Be the first to comment on this post below!