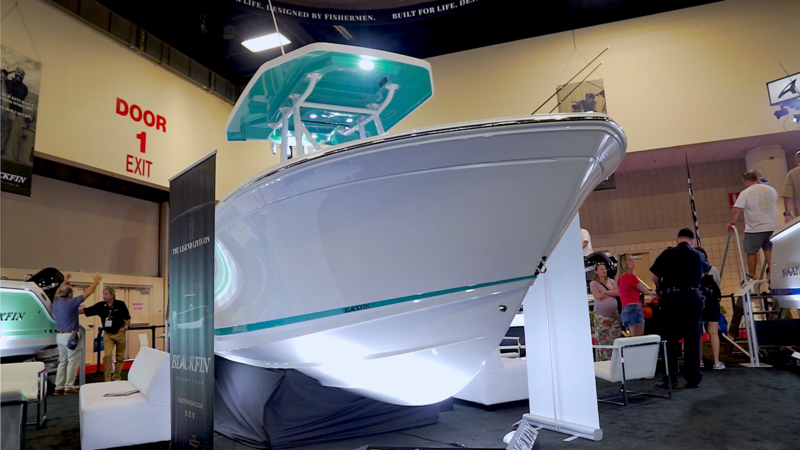 Finally, it's that time of year again. The 2018 Fort Lauderdale International Boat Show (FLIBS) is almost in town and we know how excited you are to be a part of this year's boat show! With so many different booths and people to meet, you'll lose track of time and the show will be over. Before you leave, we want you to come check out our Blackfin Boats and here are five reasons why!
1. The Legend Lives On
Blackfin Boats are truly eye candy that will draw you in with not only for their beauty, but also their quality and power. There is a reason why our slogan is "The Legend Lives On" - because we always make sure our Blackfin Boats are built on a legendary brand heritage while incorporating the latest in design and engineering. Blackfin owners love their fishing boat, which is why you must stop by slips H 826-828 at the Bahia Mar Marina to check out these legendary boats!
2. The Legendary Models
Legends must have legendary boats in order to earn the title. At FLIBS 2018, you can expect to see our amazing fishing boats at the show, including the all new Blackfin 332CC. This breathtaking center console features a LOA of 33"2", and is one of the smoothest riding boats you will ever find! Don't miss your chance to learn "What Legends Are Made Of".
3. The Show
Not only will we be displaying our top of the line boats but we will be showing everyone the innovation that has transpired to make sure that the Legend Lives On! This is a show not to skip.
4. Immerse Yourself Into the Fishing Culture
As you know, Blackfin Boats are popular for their many top notch fishing models. Visiting us at our booth will allow you to immerse yourself into the fishing culture. Whether you're new to the industry or you've been in it for decades, it's always good to immerse yourself into your passion. Walking into a Blackfin fishing boat will put that fire back into your eyes and remind you why it is you love to fish in the first place.
5. Catch Up to the Newest Blackfin Fishing Boat Models
The boating industry is constantly evolving, which makes it harder stay up to date with the ever so changing lifestyle. Visiting our booth will allow you to catch up to the newest Blackfin fishing boats and give you a push in the right direction, if you're in it to win it!
Have Some Fun at this Year's FLIBS
We hope that you visit our booth and truly bask in the beauty that is of our Blackfin Boats. We will be located at slips H 826-828 at Bahia Mar Marina from October 31st- November 4th. No matter what, don't forget to have some fun at this year's FLIBS 2018, it's for your enjoyment and we can't wait to see you there!
---
Bookmark & Share
---
User Comments
Be the first to comment on this post below!