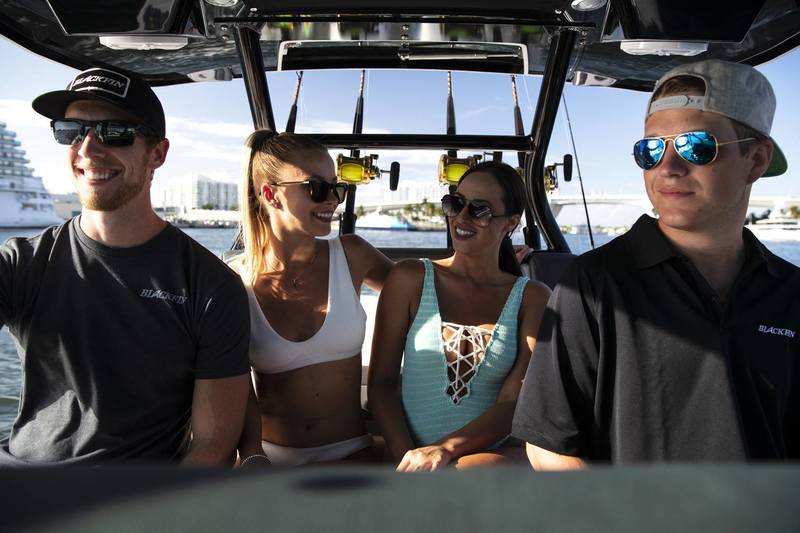 Here at Blackfin Boats, we work hard to make waves in the industry. To be among the best center console boats in the US is both an honor and a privilege. Definitely not a title earned from nothing. It takes a special team of craftsmen and engineers who are passionate and who have the expertise to create a Blackfin boat. Let's dive right into why Blackfin models are among the best center console boats in the US:
Quality Built Center Console Boats
Here at Blackfin Boats, we pride ourselves with how we build our boats. With anglers in mind, we always strive to exceed expectations. There's a reason to why Blackfin models are among the best center console boats in the US. and it wasn't on accident! Built with precision and quality parts, there's no wonder why our center console boats are among the best. As a matter of fact, our 272CC model is ranked among the very best fishing boats of 2018! Our models are equipped with features that any fishing enthusiast will be head over heels for. From 54-gallon fish boxes to livewells for keeping fish and bait fresh, needless to say Blackfin Boats has everything you need to cruise or fish. You can read all about when our Blackfin 272CC got ranked among the best fishing boats of 2018 here.
A Legendary Brand
Since our inception, we have done nothing more than exceed the expectations of others. We don't just throw together a model and call it a day. We stay true to our name, after all, Blackfin Boats is not just your typical boating manufacturer. All of our center console boats and dual console boats are built with the utmost innovation, performance, and versatility possible. We are here to stay, Blackfin Boats is more than a brand. Keep reading about the Blackfin difference right here.
The Blackfin Advantage
Not only do we produce high quality center console boats and have a strong brand but we also offer what our competitors are afraid to offer, warranties. We know that we do extraordinary work and that's why we backup our boats with warranties. We offer a lifetime limited warranty, lifetime limited structural hull warranty, 10 year limited structural deck warranty, ten year transferable limited structural hull warranty, three year exterior cosmetic gelcoat limited warranty, and even a limited warranty for non-structural parts and components. To learn more about our warranties click here.
Join The Blackfin Family!
We aren't just a brand, we are a family who all love our Blackfin Boats. So, when you purchase your very own Blackfin, you should expect a warm family welcome on our social media pages. You can even show off your Blackfin boat on your social media by tagging us at #BlackfinBoats to get featured! We are a family worth joining, build your very own center console boat using our online boat builder tool.